November 10, 2018
A well-designed landscape brings a harmonious balance between hardscape and softscape. Softscape includes the trees, shrubs, and plants in your outdoor living space. The hardscape is any of the hard, non-living material that makes up pathways, retaining walls and patio spaces. Hardscape is typically made of some sort of rock, stone, or concrete.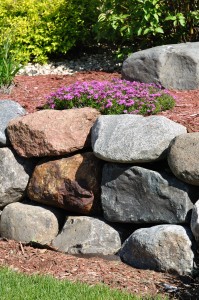 Your Ann Arbor hardscape sets off and highlights your landscape design. It also makes it functional. To get the most out of your hardscape design you will want to carefully consider what material it will be made of. There are many options, all with characteristics that could make them well suited for your yard. Here we have outlined the best hardscape stones for you to consider.    
Decorative Gravel
Decorative gravel is a popular and versatile choice in hardscape designs. Gravel can be comprised of different types of stone, and best describes the size of the stone. It is generally pea-sized and comes in a variety of colors. Its small size makes it simple to use and it is easily spreadable.
Decorative gravel is a relatively inexpensive hardscape material. It can be used alone or in combination with other larger stones to create hardscapes like a walkway path or driveway. Gravel is sometimes also used in place of mulch in flower beds to reduce landscape maintenance.
Decomposed Granite
Decomposed granite is similar to gravel, only it is much finer and has a softer, more natural look. It is formed from the erosion and natural weathering of solid granite and has extremely small particles. Decomposed granite used for hardscape typically has particles no bigger than 3/8 inch.
Decomposed gravel comes in an extremely wide array of colors, including various shades of white, brown, gray, black red and green. It is also versatile hardscape material.  It can be used as a garden bed or in place of mulch around trees and in areas where grass won't grow. It can also be compacted and used as a patio.
Decomposed granite is water permeable so it provides good drainage.
Synthetic Boulders
For a bigger hardscape impact, synthetic boulders are used. They can be used alone or in small groups for a more natural and decorative focal point, or they can be used to create terraces or retaining walls.
Synthetic boulders are made of cast concrete. It looks just like stone but doesn't wear, sets easier, and creates a more uniform look when incorporated into hardscape. They are more lightweight than natural rock which makes them a good choice for hardscape where weight needs to be considered. For example, they can be used for a terrace without the worry of the weight crushing and collapsing the hardscape over time. They are also much more cost effective than natural rock and are more environmentally friendly as they do not need to be mined.
Because they are man-made, synthetic boulders can be customized for your hardscape design. They come in a variety of colors, shapes and sizes. Therefore their uses are nearly endless.
Slate
Slate is another popular hardscape stone choice. It comes in a variety of textures and colors, ranging from gray and black to green or blue. Slate easily breaking into thin pieces and is particularly well-used as a paver stone for a patio or walkway. It is also water-resistant and is often used around water features.
Slate does have a couple drawbacks. It is easily damaged and can be expensive. However, synthetic slate can be used. It will be less expensive and provide longer wear.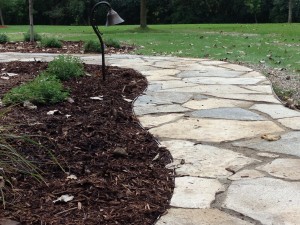 Flagstone
Flagstone is most often incorporated into hardscape as paths, patios, stairs, and walls. The thin, flat slabs can easily be adapted to many styles of hardscape designs. It also comes in a variety of colors, from light gray to blue. The slab-like quality of flagstone makes it easy to be walked on. It can be made of different varieties of rock, but limestone is the most preferred variety.
Flagstone can be expensive. You can expect to pay between $15 to $30 per square foot. For this reason, it is often combined with other hardscape materials, including synthetic flagstone. Synthetic flagstone pavers come in a variety of shapes, colors, and thickness and look just like natural flagstone.
Variety Can Bring Your Hardscape Design To Life
Using a variety of hardscape materials can bring your outdoor living space to life. The right stone will not only led to the beauty of your yard but make your landscape a functional part of your home as well. You do need to choose the right stone for the right use. We recommend steering clear of sandstone. Sandstone is extremely soft and breaks down easily. It does not stand up to well to mid-western winter and spring seasons.
No garden is complete without its hardscape. Is it time to add a little hardscape to your landscape? The experts at Twin Oaks Landscape can help you create the perfect hardscape design to balance your softscape and make your yard more functional. Call us today at 734-231-6911 to discover your options.
"We recommend Twin Oaks to any entity looking for a full-service, talented, and responsive provider."
Therese Mahoney
Secretary/Treasurer of Doral Creek Condominium Association, Ann Arbor, Michigan