April 6, 2021
If you are looking for the latest landscaping trends that are low maintenance and high impact, hardscapes are the way to go. Hardscaping is every piece of your landscape design that is not vegetation. Hardscapes are man made features that can incorporate natural elements, such as river rocks or stone, or man made materials such as bricks or rubber mulch. There are many styles of hardscaping that will enhance your yard this year.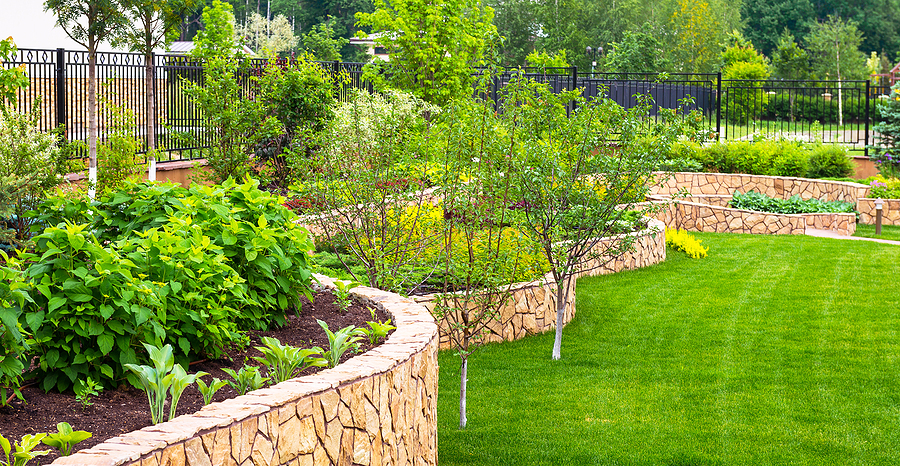 1. Create Raised Garden Beds
Raised garden beds may require some landscaping maintenance, but they will help define your garden areas. With defined and raised beds, your yard will become more functional, your maintenance will be contained to the beds, and gardening will become more convenient. Raised garden beds can make your yard look luxurious and well-cared-for.
2. Consider an Outdoor Kitchen
An outdoor kitchen takes your grill and outdoor living area a step further and provides a true entertaining space. This hardscape will upgrade your entire property. A patio kitchen, which can be complete with running water, refrigeration, stove top, and oven, will take outdoor entertaining to the next level. If you aren't ready to commit to a full outdoor kitchen, a built-in grill can enhance your patio greatly and provide plenty of value to your home.
3. Sitting and Retaining Walls are Among the Latest Landscaping Trends
Sitting and retaining walls are both functional and beautiful. These walls define the borders of gardens or outdoor entertaining areas and can provide a way to gather and corral your guests in designated areas. Walls can also reduce the potential for erosion, add privacy for certain spaces in your property, and increase the curb appeal of your yard.
4. Beautiful Additions to Your Property
Gazebos, pergolas, and arbors are areas that add shade, act as trellises for vining plants, and can define outdoor spaces. Pergolas and gazebos can encompass outdoor dining spaces, living rooms, meditation or yoga spaces, or simply spots to relax.
5. Fire Pits and Fireplaces are Always in Style
A fire pit or patio fireplace can make your outdoor living space a place to enjoy all night and all year long. Outdoor fire features will make warmth for fall and winter gathering and can extend evening socializing. A patio fireplace will enhance your outdoor living area and increase the value of your home.
6. Upgrade Your Patio
Patios are the traditional hardscape, but they can be enhanced with built in seating, walls, garden features, and storage areas. The features and stone used in your patio can take it from a simple slab to a beautiful outdoor living space.
7. Use Stone and Brick to Improve Your Aesthetic
Whether you are using stone and brick for pathways, driveways, or stepping stones, stone and brick are long-lasting, low-maintenance, and will make a significant difference in the curb appeal of your home. There are a wide variety of styles and colors and can instantly make a property look more high-end over basic paving or concrete.
The benefits of hardscaping are so numerous, it is not surprising to know that hardscaping is among the latest landscaping trends. Hardscapes conserve water, provide a low maintenance landscape design, defined yard and outdoor living spaces, enhance privacy, and increase curb appeal. This added function and comfort make hardscapes an excellent choice for many properties. Let's talk about enhancing your outdoor living spaces. Contact Twin Oaks Landscape for more information about how we can rejuvenate your lawn and landscape.
"We recommend Twin Oaks to any entity looking for a full-service, talented, and responsive provider."
Therese Mahoney
Secretary/Treasurer of Doral Creek Condominium Association, Ann Arbor, Michigan