July 2, 2017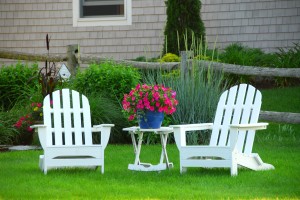 The 4th of July is a time when family comes together and celebrates the history of our country. When preparing for barbecues, reunions or other get-togethers for this 4th of July, a great way to decorate is to incorporate your patriotism directly into your garden. Such colorful and charming examples of landscaping decor will keep these celebrations memorable for years to come.
Different Flower Choices
Obvious choices for colors are red, white, and blue, but there are hundreds of ways to arrange these colors. From traditional rows to the ever popular shape of the American flag, different arrangements can be used to best suit different lawns. The size of the flowers chosen must also be taken into account; for example, tall, white Lilies should not be placed in front of the much shorter Blue Ageratum. The flowers must also be ones that thrive in the same amount of sun; some good combinations are:
Red Snapdragons
White Heliotrope
Red Geraniums
White Alyssum
Blue Lobelia
Red Salvia
White and Blue Petunia
Blue Ageratum
Can't find blue flowers? There is another way!
Containers
One way to use patriotic colors to great effect is to plant red or white flowers in a blue container. The container can be anything from a window box to an adorable pair of American-themed rain boots. Red Charm Peonies are one option for an easy-care flower with a vibrant red color. They will stand out against a blue and white setting, providing a great patriotic look.
Flags
Judicious application of the American flag can also make a garden especially decorated for the holiday, while the colors would appear more subtle for the rest of the year. Placing small American flags in a flower bed is easy to do, and the flags will make the rest of the lawn appear all the more patriotic. Larger flags hanging from window boxes full of red, white, and blue flowers are an elegant use of landscaping decor.
Helpful Tips!
Some other facts to keep in mind when planning the look of your patriotic party are:
Remember that your yard will be full of party goers. Plan places for groups to meet and talk, and for walkways between different beds of flowers. This will ensure that the look of the lawn remains unchanged even after a crowded party.
Highlight important plants and areas. If you know that many party guests will assemble in a particular area – for example, near the food making station – give them something to look at and enjoy.
Know your yard. Some areas have more sunshine; others are closer to water. Choose plants that thrive in those areas, to make sure the landscaping decor can be enjoyed for a long time.
Lawn ornamentation can be great in moderation. Consider placing some red, white or blue decorations out. This will add to the festive nature of the decor, and keep your landscaping aesthetically pleasing.
Don't wait! Start planning for your 4th of July party today! It will be memorable, festive, and patriotic if you start work on your landscaping right away.
"We recommend Twin Oaks to any entity looking for a full-service, talented, and responsive provider."
Therese Mahoney
Secretary/Treasurer of Doral Creek Condominium Association, Ann Arbor, Michigan