June 25, 2016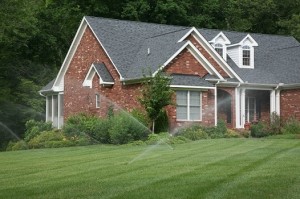 If you're ready to invest in a permanent irrigation system or if you've got one and want to be sure it's making the best use of water, contact a landscaping professional for an assessment of your current landscape. Standing water and inefficient run-off may mean that you should consider yard re-grading before installing permanent irrigation. In addition, standing water is a breeding ground for mosquitoes, making your yard a hazard. If you have a permanent irrigation system and are dealing with an uneven or wasteful water distribution in Ann Arbor MI, a qualified landscaping professional can help you plan a better use of under-utilized water.
Grading and Re-Grading Can Protect Your Foundation
The most important thing to consider with regard to grading or re-grading your yard is foundation protection. An irrigation system that nourishes your lawn is wonderful. If it threatens your home, it's a problem. A detailed assessment of the grade of your current landscape will provide you with the information you need regarding changing the grade of your lawn. Re-grading is critical if rainwater run-off or water from your yard's irrigation system is impacting your foundation.
If You Can't Make It Level, Make It Beautiful!
If you have a permanent irrigation system installed that doesn't impact your foundation and is easy to winterize and maintain, re-grading will improve the level of your yard and the efficiency of your irrigation. An effective re-grade to level your lawn can provide you with a lawn that's healthier and easier to mow. If re-grading for level doesn't appeal to you, a landscape designer can offer many solutions and design ideas to correct issues such as standing water and run-off. For example, a low spot that collects water may be an ideal spot for a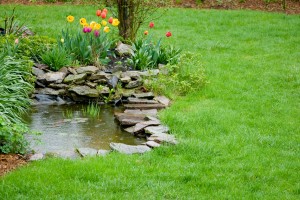 Rain Garden. Rain gardens are dug deep and amended with permeable soil correction such as sand, compost and topsoil as needed. The native plants found in Ann Arbor MI can be put to beautiful use in these gardens and are water tolerant and thirsty. These plants filter run-off water, provide nourishment and habitats for birds, bees and butterflies, and offer low maintenance beauty in the landscape. Rain gardens can also be fed by directing the run-off from your downspouts and outdoor buildings with a
Bioswale, or gently sloped drainage course designed to remove silt from run-off. You can make efficient use of water and beautify your yard. Bioswales are filled with water tolerant vegetation and often treated with irrigation fabric to reduce soil erosion. This efficient combination of landscaping features will make terrific use of any standing water in your yard.
A careful yard re-grading can provide you with the smooth, even stretch of yard you desire. Once re-graded and level, your yard will be able to make better use of water, fertilizer treatments, and rainfall. However, if a re-grading for level isn't possible, a qualified landscape designer can offer you other options to make the best use of standing water and run-off in your yard.
"We recommend Twin Oaks to any entity looking for a full-service, talented, and responsive provider."
Therese Mahoney
Secretary/Treasurer of Doral Creek Condominium Association, Ann Arbor, Michigan