May 13, 2015
You want to put a new deck on your Ann Arbor MI house, but you are not sure what kind of material to buy. You like the look of a wood deck, but you might not have the time or money to care for it properly. Though it might be a little more expensive, a composite deck could be what you are looking for.
Low Maintenance
Composite decks require far less care and maintenance than wooden ones. They are made of a combination of wood fibers and plastic that resists impact damage and will not split or shrink with the passage of time. They are also far more resistant to sun damage and fading since the color is a part of the material. The only regular maintenance that you might have to perform is an occasional power washing to remove the built up tree sap, dirt and grime that comes with the passing of time. This lower maintenance will save you money when you do not need to strip, sand and refinish your deck every few years.
Choose A Look
When the composite materials first came out in the mid 1990s you had your choice of grey or grey. The industry has since discovered that there is a large market for it and have been working hard to improve your options. You can find materials that have been molded using actual wood as a pattern in a range of wood species that include cedar and walnut. These are available in different colors that resemble the stains that you would have used on wood. Their are also styles available that have ridges or other patterns that give better traction and help with water drainage from the deck.
Environmentally Friendly
Most composite decks are made from recycled materials. Sawdust, plastic bottles and jugs, and used grocery bags are all a part of the mix that makes it up. In fact, every 20 feet of decking has about 30 pounds of material that has been recycled. With the current popularity of composites this adds up to millions of pounds of material recycled each year.
Long Lasting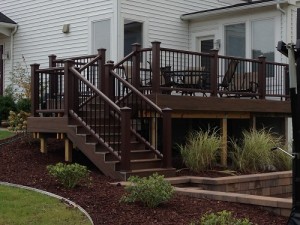 Since the material is made with plastics, it will hold up to those harsh Ann Arbor MI winters with no problems. Moisture will not soak into it and make it rot. There is no risk of it drying out so it will warp and twist. Insects will not develop a taste for it and infest your deck. A composite deck is likely to stand for as long as your house does. This will leave you free to enjoy it worry free for years and years to come.
Putting that new deck on your home will give you a relaxing place to spend those lazy summer afternoons. It can also increase the value of your house if you decide to sell it. Using composite decking for that deck will ensure that it looks good for as long as you own your home.
Get your yard looking its absolute best with custom landscaping solutions from Twin Oaks. Find us online at https://www.twinoakslandscape.biz/, visit us in Ann Arbor, MI at 4100 South Maple Road, or call us at (734) 213-6911.
"We recommend Twin Oaks to any entity looking for a full-service, talented, and responsive provider."
Therese Mahoney
Secretary/Treasurer of Doral Creek Condominium Association, Ann Arbor, Michigan