February 24, 2021
Landscaping design and maintenance is one of the most important jobs an HOA board will need to tackle. It's easy to auto-pilot through your landscaping tasks with the same old contractor you've had for years, but that might not be producing the wow factor you're looking for. If you're feeling less than excited about your HOA landscape design, maybe it's time to talk with a new contractor. Updating the landscaping designs every few years will keep your property fresh, the curb appeal strong, and resale values high. Finding a new company to handle your HOA landscaping needs may sound like a daunting task, but if you find the right one who understands the value in keeping your property updated and fresh, you'll never have to search for another one again.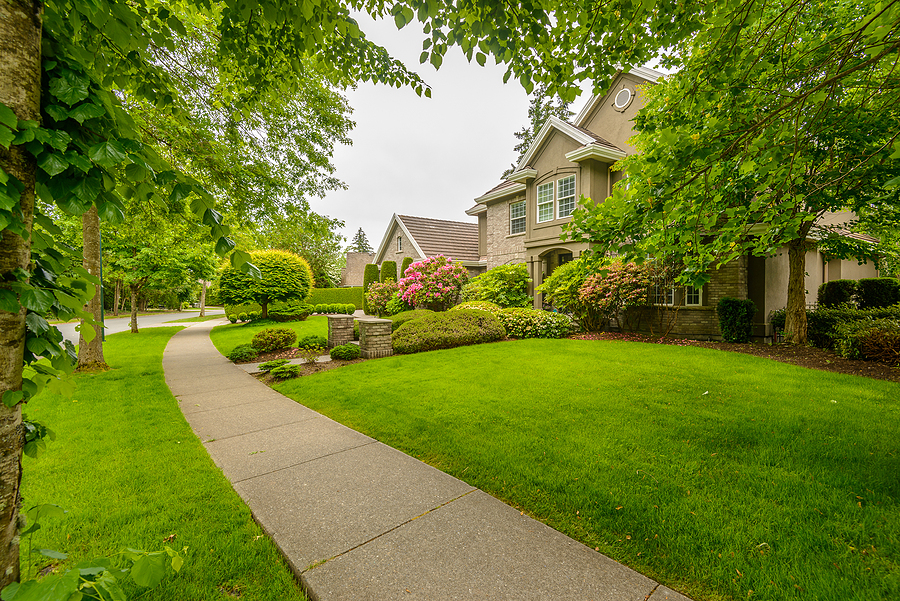 When is it Time to Update Your HOA Landscape Design?
If your landscape design was done in the previous decade – or even before – it may be time to refresh your look to the latest landscaping trends. Old growth may be out of control and can make your HOA community look outdated. If everything feels like it's square shapes, one shade of green, and bark mulch that needs to be refreshed frequently, it may be time to move forward and update your HOA landscape design overall.
Consider the Latest Landscaping Trends
The latest landscaping trends can freshen and modernize your HOA community and provide a boost of enthusiasm for homeowners to do the same. Some of the latest landscaping trends include:
·   Evergreen Shrubs and Bushes
Smaller shrubs such as boxwood, barberries, feather reed grass, red tipped photinia, and bamboo have more color and texture than styles that were popular years ago, such as juniper, that can quickly get out of control, collect trash, and even become a safety hazard.
·   Color
Color doesn't have to be limited to certain seasons. Colorful plants and flowers can enhance overall curb appeal. Forsythia is an early bloomer with a beautiful yellow color, midland roses will bloom throughout the summer, reed grasses turn tan in the winter, and red tipped photinia will change colors throughout the year.
·   Mulch
Bark mulch needs to be refreshed often. River rock, mocha lava, and decomposed granite are becoming popular choices that add texture and don't need as much regular maintenance.
·   Reducing Turf Areas
You will want to keep some areas of grass in your HOA community areas, but the upkeep of large grassy areas can require a lot of water, mowing, and maintenance. Focus on keeping the turf in the areas that get used often, such as the main drive, pool or playground areas, picnic and barbecue areas, and other common areas where grass makes sense. In less used areas, look for landscaping that requires less upkeep but adds beauty.
·   Adding Curves
Square chunks of grass look dated, but curves, angles, and areas of different textures will really add a punch to your curb appeal.
Add Irrigation
Adding an irrigation system is a big investment for your HOA, but it's insurance that your landscaping will look beautiful year-round, and that is priceless. Having a system that is designed to avoid water waste and is delivering the right amount of water to the right areas can keep your property looking beautiful without worry.
Make Lighting Part of Your Landscape Design
Lighting can help illuminate the best features of your HOA community. Adding accent lighting around landscaping features you want to highlight will showcase the work and dedication your HOA board has put into keeping common areas looking fresh. Outdoor spaces may get used more frequently if they are well lit, and a property that is well lit will make it more inviting to potential buyers.
Investing in enhancing – not simply maintaining – your HOA's landscape design with the latest landscaping trends can make your community a desirable one for the right homeowners. When HOAs invests in their landscaping, homeowners will do the same, and the community as a whole will become more aesthetically appealing overall. We know landscaping, and we work with HOAs in this area to keep their properties updated and always looking their best. Contact Twin Oaks Landscape for more information about our HOA services.
"We recommend Twin Oaks to any entity looking for a full-service, talented, and responsive provider."
Therese Mahoney
Secretary/Treasurer of Doral Creek Condominium Association, Ann Arbor, Michigan