May 24, 2019
The time has come to restore new life into your landscape. One look at the space and it's clear that your flowerbeds need some color, the grass needs treated, and some new additions could go a long way to improve the overall aesthetic appeal of your property. The question is, who's going to help you envision, plan, and do the work to transform your yard into a magazine-worthy space everyone will enjoy? Can just any landscaper you find online successfully pull off the job?
If you're scrolling through lists of landscaping design companies, you'll see lists of skills and services offered, and descriptions of their teams of professionals on staff. You may see a list of services such as:
Mowing and Lawn Maintenance
Seasonal cleanup
Irrigation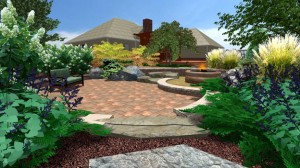 Tree Removal
Brick Pavers or Retaining Walls
Patio construction
Outdoor lighting
Hardscapes/Softscapes
Garden Landscapes
Commercial Landscaping
Residential Landscaping
This list is short and certainly not complete, as the scope of landscaping services can include endless possibilities. When you look at the options of professionals who may be completing the work for you, you'll see titles like:
Landscape Contractor
Landscape Architect
Landscape Designer
Landscape Installer
While these titles certainly are impressive, there are differences between their job descriptions, and not every landscaping professional will be the right one for your upcoming project.
Different Job Titles, Different Job Capabilities
Landscape Architect
Landscape Architects have experience working on both residential and commercial landscape design projects. Architects have the educational training and experience to design and conceive outdoor structures, driveways, retaining walls, irrigation and drainage systems, retaining walls, and other major projects. Architects have the experience and understanding to address elevation issues or sloping concerns. Landscape Architects focus more on the engineering aspects of landscape design and have less knowledge of the "soft" materials of the industry.
Landscape Contractor
The capabilities of Landscape Contractors can be very extensive. They specialize in installing landscape elements determined by a landscape architect. They are typically gardeners or landscapers or both. They may install and manage irrigation systems, create specialty gardens, or build patios. They can work on both residential and commercial landscape projects. They may specialize in Design & Build, Installation, Maintenance, or even Interior/Exterior landscaping. They bring the vision of the Landscape Architect to life and getting their hands dirty is one of the requirements of the job.
Landscape Installers
The term "Landscape Installer" can be used in place of "landscape contractor". Their job is to implement the designs and plans conceived by Landscape Architects.
Landscape Designers
Landscape Designers work almost strictly on residential landscape design projects. Their job is to work with "soft" materials (plants, small pebbles, sand, or bark). They do not typically handle earth-moving construction projects, wall building, or electrical work. Landscape Designers will often be the ones on-site to take photos of the area, listen to client preferences and design ideas, or make recommendations for contractors or architects.
So, before you hire the landscaping company with the catchiest company name, think about what type of landscaping work you'd like to have done on your property. Do they have the right professionals on staff to properly manage your complete design project?
Our team of experts at Twin Oaks Landscape has been proudly providing landscape design services to Ann Arbor and its neighboring communities for more than two decades and is fully equipped to handle any landscape design project, no matter how simple or complex. Contact us today for a consultation and discover all the possibilities that a beautifully transformed landscape has to offer.
"We recommend Twin Oaks to any entity looking for a full-service, talented, and responsive provider."
Therese Mahoney
Secretary/Treasurer of Doral Creek Condominium Association, Ann Arbor, Michigan