April 29, 2023
Mulching is the process of covering the soil or plants with a material such as straw, grass clippings, leaves, bark, or compost. Mulching your landscape can provide a number of benefits, such as improved soil health, water conservation, and weed control. Not to mention, it can give your property a well-cared-for look.
However, if executed improperly, mulching can also do more harm than good. As such, it's a good idea to have a professional landscaping service mulch your yard for you.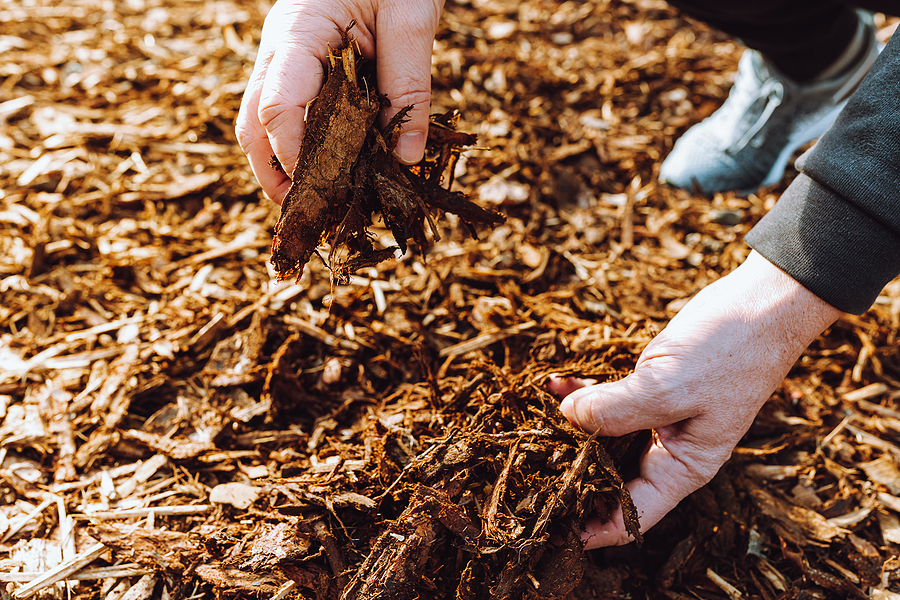 What is Improper Mulching?
As beneficial as mulching can be, improper mulching can cause many issues. The following are a few examples of improper mulching and the problems that it can cause:
1. Applying Too Much Mulch
Too much mulch can smother the roots of plants, leading to root rot. It can also interfere with the exchange of oxygen, water, and nutrients in the soil, leading to stunted plant growth. So how much is too much? Generally, it's best to keep the layer of mulch at two inches or less.
2. Applying Mulch Too Close to Plant Stems
Mulch applied directly against the stem or trunk of a tree can cause the bark to rot, leading to infection and even death. Similarly, mulching around smaller plants should be done carefully to avoid smothering the base of the plant.
3. Using Improper Mulch Materials
Mulch materials should be organic and free from pests, diseases, or weed seeds. Some inorganic mulches can burn plants if exposed to intense sunlight for too long, so it's important to use an appropriate material for your landscape. For example, rubber mulch might be suitable for playgrounds, but not necessarily ideal for landscaping plants.
4. Mulching at the Wrong Time
The timing of your mulching is also important. Most plants should not be mulched until after they are established and have healthy root systems. Mulching too early can inhibit growth, as the roots may not yet be able to absorb the necessary nutrients from the soil.
Additionally, you should avoid applying mulch during cold weather or late in the fall, as this can cause the plants to become vulnerable to cold damage. The best time to mulch your landscape in Michigan is between March and April depending on the weather and road-frost-laws.
Our Professional Mulching Services
When mulching your landscape, it's best to leave it to a professional. At Twin Oaks Landscape, our team of experienced landscapers understands the importance of properly mulching your yard and will make sure that it is done correctly. We use industry-standard mulching materials and best mulching practices to ensure that your landscape remains healthy and vibrant.
In addition to tailoring our mulching service to your specific landscape, we also offer a wide range of other landscaping services, from lawn mowing to tree and shrub trimming. We offer year-round landscape maintenance contracts for HOA common areas, commercial properties, and residential properties that include our mulching service in addition to other services and perks, like weed mitigation and snow/ice removal in the off season.
Schedule Professional Landscape Mulching in Ann Arbor, Michigan Today
Proper mulching can lead to a healthier and more attractive landscape. By hiring a professional mulching service, you can ensure that your landscape is mulched correctly and properly maintained throughout the year. To learn more about our mulching services in and around Ann Arbor, Michigan, or to schedule an appointment, contact Twin Oaks Landscape today. We look forward to helping you keep your lawn, landscape, and property looking its best!
"We recommend Twin Oaks to any entity looking for a full-service, talented, and responsive provider."
Therese Mahoney
Secretary/Treasurer of Doral Creek Condominium Association, Ann Arbor, Michigan