May 28, 2017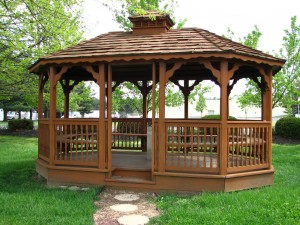 There are many benefits to owning a gazebo. It is a structure with a large variety of uses that can change from day to day and season to season, no matter where you live.
Relaxation and socializing
During the summer, a gazebo can provide a shady area to relax and have drinks. Even during rainy days, it can provide shelter for those who would like to spend more time outdoors reading or talking with friends. A gazebo often provides a good location for social engagements or a quiet place for contemplation.
Cooking and barbecue
It is also an ideal place for a barbecue. The roof provides shelter for the cook, but the open-air aspect of the gazebo means that the smoke has somewhere to go. The scent of good, old-fashioned barbecue is sure to inspire many family dinners. Safety is important when it comes to flames and smoke, so be sure to put your grill in a good location and keep an eye on it while cooking.
Photography and film
A gazebo is also useful as a place for event photography. It can add ambiance to any scene, particularly, for proms and weddings. The romantic, architectural styles associated with these structures show up beautifully in both photography and film.
Aesthetics
Owning a gazebo adds to the overall aesthetic of a lawn. These structures can run the gamut from elegant to cozy and express a homeowner's personal flair. Selecting the right architectural style and finding an ideal location for it is a specialty of many landscaping design firms, which can help tailor the structure to individual needs.
Practical Uses
A gazebo has many practical uses. Depending upon the needs of the homeowner, it can serve as a functional outbuilding. During the fall and winter, firewood can be stored in the gazebo to keep dry. Some gazebos also offer storage space for tools, skis, rafts, and other items.
Weddings, parties, and events
A gazebo also offers a good place for events such as weddings or parties. The structure provides a focal point to the event and adds charm. It can be used as the main area of the event or even as a space for food, snacks, and drinks.
Cozy winter hideaway
During the winter, glass can be installed so that it can be used year-round. Adding a few space heaters and blankets turn it into a cozy place for after-dinner conversation and a glass of wine. Regardless of the climate in which your home is located, a gazebo is a great choice for year-round entertainment and socializing.
Gazebos are a versatile and unique type of structure that add flair to any lawn or backyard by allowing a homeowner to express their own style.These beautiful and cozy structures are a great choice for anyone wanting to provide a special location for weddings, events, barbecues or simply, a quiet place to read a book with a glass of wine on a rainy afternoon.
"We recommend Twin Oaks to any entity looking for a full-service, talented, and responsive provider."
Therese Mahoney
Secretary/Treasurer of Doral Creek Condominium Association, Ann Arbor, Michigan