April 18, 2019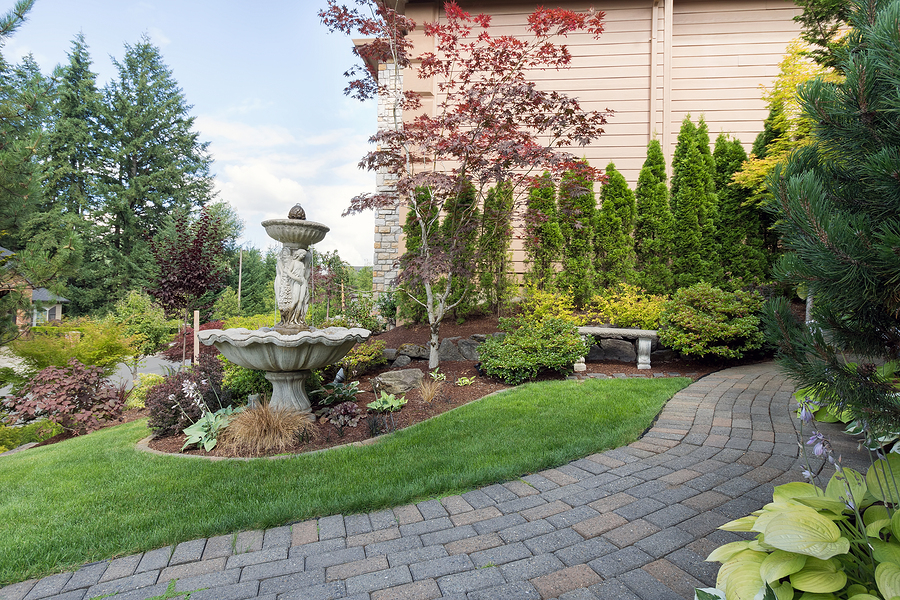 There's a common saying, "A New Year, A New You." We think this applies to your landscape, too. Updating your landscape in 2019 doesn't have to be limited to cleaning out a few flowerbeds or fertilizing your lawn. This spring, you can give your lawn a whole new transformation that will add value and aesthetic appeal to your entire property.
If you're thinking of updating your landscape this year, here is a list that includes eight of the top landscape design trends to consider. Which one might be a top contender for you and your landscape?
Low Maintenance Landscapes
We are extremely busy and rarely have the time to maintain complex gardens day after day. Low-maintenance landscapes are popular because they allow your property to look beautiful without significant work on your part. These landscapes include drought tolerant and native plants and perennial flowers. If you have any trees, bushes, or shrubs that don't serve a significant purpose or benefit, you might consider removing them altogether.
Turn Your Landscape into a Destination Location
Turn your backyard into a private retreat. Beautiful privacy fences, exotic flowers and trees, high-end stonework accents, fire-pits, a pergola or gazebo, and luxurious outdoor furniture are just a few ways that your backyard can be transformed into your favorite vacation destination. No need to travel any further than through your own back door for a little R&R.
Add Statement Pieces
Give your landscape a striking new image with statement pieces. These would be statement pieces that steal the show when people show up. Statement pieces are not limited to anything specific, but may include beautifully crafted stone statues, a greenhouse, a showcase of artistic pieces made from metal or precious stone or even replicas of local or important landmarks. Think "WOW" pieces that capture people's attention when they arrive.
Add Paved Surfaces or Hardscapes as Part of the Landscape
Remember that your landscape design doesn't have to simply be grass and flower beds. If you've included a beautiful cast iron bench in your garden, include intricately designed paving stones surrounding it. Whether you add a sidewalk, pavers, or retaining walls, these hardscapes can be artistic statement pieces all on their own, as well as serve functional purposes for daily use.
Create Functional Living Spaces Outdoors
If you live in a climate that accommodates this, it's a popular trend to bring your life outside to your backyard space. Add an outdoor kitchen with high quality, weatherproof furniture. Create a "She-Shed" or "Man Cave" outside to enjoy your favorite hobbies, or to find some private rest, meditation, or solitude.

Turn Your Landscape into a Community Garden
Mixing edible plants with your other flora is a beautiful and practical way to transform your landscape. Many people are finding great meaning and satisfaction in growing food that can be donated on a regular basis to community food pantries, soup kitchens, or shelters. Not only do edible plants like fruits and vegetables taste great, but they come in brilliant shades of color that add beauty to your outdoor space. You can make your landscape look spectacular and you can do good all at the same time.
Raised Flower Beds
Raised flower beds are another popular trend that is making its way into many communities. Raised flower beds minimize the need for weeding and allow you to easily include the soil needed to properly grow specific types of plants or flowers. They can be elegant in design and artistic in beauty, while also creating functional spaces that keep your flower beds from looking crowded or cluttered.
Incorporate Pots for Everything
Flower Pots aren't just for flowers! Pots are perfect for any backyard transformation because they allow you to change the look and feel of your space anytime you want, since they are portable. Pots come in a wide variety of shapes, sizes, colors, and motifs. They can be made of a wide range of materials too. They can be their own statement pieces in your landscape. If the yard space is small enough, many people will completely cover the grass with a hardscape option and use flower pots to showcase strategically placed plants. These pots can include flowers, succulents, grasses, small trees, or even collections of stone.
There's a new year ahead and the possibilities are endless. This is the time to make a resolution to finally update your landscape with a whole new look that will shock and delight visitors when they arrive. What trends will you consider?
Thinking of a whole new landscape design for 2019? If so, Twin Oaks Landscape can help. Our experts have been beautifully transforming Ann Arbor landscapes for more than 20 years, and can turn your old landscape into a masterpiece. Contact us today for a consultation.
"We recommend Twin Oaks to any entity looking for a full-service, talented, and responsive provider."
Therese Mahoney
Secretary/Treasurer of Doral Creek Condominium Association, Ann Arbor, Michigan