March 26, 2014
You may be wondering what you actually get when you purchase a landscape design from Twin Oaks Landscape.  Well, here is a rundown of how we work with you from beginning to end!
Once you decide that you would like a landscape design, we give you two options.  First, and most traditionally we have a 2-dimensional design (plan view).  This design is great for those who may install the landscape themselves, or who visualize well in this format.  These plans are generally black and white overhead views of the property that indicate the home, buildings and other structures as well as existing trees and the additional proposed landscape.
Secondly, we offer a 3D design that gives you a more realistic version of what your landscape will look like.  This software allows us to build a model of your home and proposed landscape to give you a better feel for the layout.  This option also includes a video walk through of your final landscape.
After deciding what type of design you would like, we will meet with you to discuss your goals for your landscape and ask you to fill out a questionnaire that will help in the creation of your design and collect a mortgage survey if available.  This questionnaire helps us to understand your needs, wants, existing conditions and budget.
Usually it takes 1-2 weeks to get your first concept back depending on the time of year.  With a 2D plan, a print of the property and plant photos are brought to your home and we go through the plan in detail and discuss any changes that may need to be made.  The 3D plan will have photos or video to look at the plan in a photorealistic view.  (Construction plans will be needed for installation, and will be created for Twin Oaks installation crews when needed, or can be purchased separately)
All necessary changes are made and a final meeting is scheduled.  At the final meeting we provide a print of the property or video link, as well as all plant photos.  Once the final plan is approved, we price the plan for you and discuss scope of work and schedule for installation.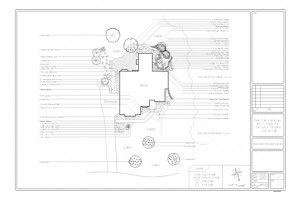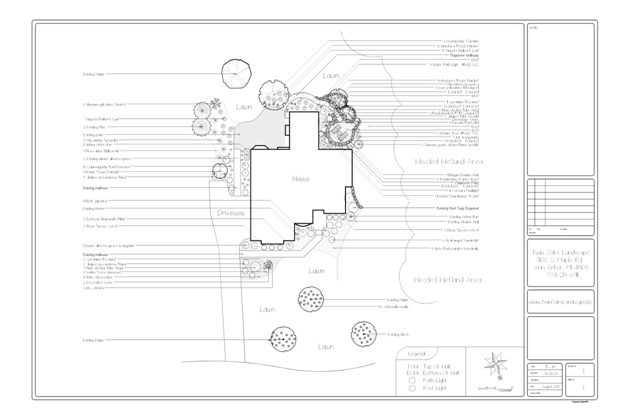 Example of 2D design
          A 2-dimensional design is a usually necessary for construction, as it has all the dimensions to scale and the plant material labeled.  Before starting any project, a 2D plan is recommended. The 3D design is used as a visual tool to help realize what the landscape will become.
Example of 3D design
          If you like the idea of being able to see your landscape before it is installed, or you are having a hard time deciding what you really want, consider having our designer create a 3D model of your home, and see what your landscape can become.
"We recommend Twin Oaks to any entity looking for a full-service, talented, and responsive provider."
Therese Mahoney
Secretary/Treasurer of Doral Creek Condominium Association, Ann Arbor, Michigan