March 27, 2015
In Ann Arbor MI, residents take their outdoor living seriously. Locals have taken the lead in the use of non
traditional materials to build their fresh air living niches. The city of trees has always enjoyed a progressive innovative attitude towards adapting new materials. Recently that fresh outlook has seen a shift in the types of deck building materials they use. The new trends take deck builders away from traditional products like pressure treated decking and natural cedar to the latest composite decking products.
"So what gives with that?" you might ask. Artificial substitutes for real wood decking have been available for over a decade. Why now has this noticeable shift in customer preferences taken place? There are a number of reasons for the new found popularity of composite decking materials.
The answers should come as no surprise to anyone who is familiar with the product and with the history of virtually every new product that is introduced.
The first wave of artificial or compost materials were introduced over a decade ago. Many of those decks missed the mark. Prices were much higher than those of traditional wood decking. Colors were off and tended to fade after only a year or two of exposure to weather. Consequently, the public did not rush to the big box lumber yards to load up on what was thought to be a wonder product. As a result of those early failures, the first entries into the market languished on the discount racks or back rooms.
Benefits of Composite Material
Fast forward ten years and composite decks have found a new appreciative audience. After many improvements by manufacturers, today's composite materials are designed to keep its appearance and are making strong inroads. Here are three reasons why:
Painting, staining, sealing and other regular tasks that wood requires are no longer required.
Composite decks don't warp after a few years
They are bug resistant and never need to be replaced.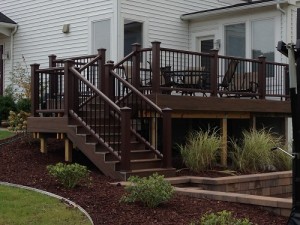 There are more reasons why composites are fast becoming Number 1.
Composite Decks are safer than wood decks. There is no longer any reason to worry about getting slivers. What a great feature for families with kids. Composite decks are less likely to become slippery when wet and tend to resist slime build up – unlike wood.
Composite decks stand up to the Ann Arbor, Michigan's summer's heat and sun and winter's ice and snow. They have long warranties of up to twenty five years. They look terrific for many years as opposed to wood which needs to be refinished every year or two
Aesthetics plays a big role for the new composites. The product goes a long way towards keeping your home value up. Colors can be matched with many accessory deck items that pull a theme together. You can add custom rails gates and post caps that match up with the decking colors and present a custom theme to your outdoor space.
Most homeowners assume that composites cost more than wood. if you take into account annual maintenance and refinishing costs, replacement of bad material, cleaning and sealing over a 10 year period, you will be surprised to see that composite costs less to own than treated wood. In addition, unlike wood, the entire deck will not need replacement after 10 years or so. Composite decks carry warranies of 25 years or more.
It's your choice, but the smart money in Ann Arbor MI is moving to composite over wood. Do your part. Save a tree and make your life easier.
Construct the perfect deck, patio, walkway or porch with custom hardscaping services from Twin Oaks Landscape.
Find us online at https://www.twinoakslandscape.biz/, visit us in Ann Arbor, MI at 4100 South Maple Road, or call us at (734) 213-6911.
"We recommend Twin Oaks to any entity looking for a full-service, talented, and responsive provider."
Therese Mahoney
Secretary/Treasurer of Doral Creek Condominium Association, Ann Arbor, Michigan