June 29, 2019
Spring is in the air and that means it's time to take life back outside. If your backyard living space could use a little TLC, you're not alone. The National Association of the Remodeling Industry currently ranks backyard hardscapes as the fourth-most-popular remodeling trend.
What's a Hardscape?
Hardscaping and landscaping go hand-in-hand; hardscape is the word used to describe the non-living components. Hardscapes include paver patios, poured concrete, pathways, driveways, and fountains. The growing popularity of hardscapes has brought a number of new products and designs to the market, allowing homeowners and their patio contractors to customize their home's outdoor areas to their liking.
Retaining Walls
The original purpose of a retaining wall was, of course, to retain earth. They still do that, of course, but many homeowners are now choosing to make retaining walls an important part of the overall aesthetic of the backyard, not just a necessity. Creative retaining walls can function as a raised planter bed, or the backdrop for a gorgeous water element. Some retaining wall projects even turn the walls into seating for your living space, representing the perfect marriage of form and function.
Walkways
Another popular hardscape project involves walkways, whether they be poured concrete, paver stones or crushed rock. Depending on the material you choose to use for the surface, a walkway can also be strictly utilitarian or complete an overall look.
Pavers make a popular choice for hardscape walkways. When properly installed, they represent a durable surface that won't need to be repainted every couple of years like colored concrete would. Pavers also stay in place better, meaning you don't have to worry about crushed rock escaping its boundaries.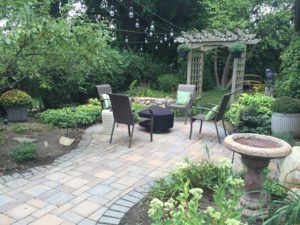 Patios
Whether attached to your home or detached, hardscape patios also represent a durable, long-lasting living space element. Much like walkways, they can be composed of poured concrete or paver stones. Each brings with them their own pros and cons. Cost, installation time and durability are the major factors to consider.
A well-done patio doesn't just expand your backyard living space, but makes your home appear larger as well. Size and shape are also completely up to you, limited only by budget and available area.
Water Features
Waterfalls, ponds, and other water features can bring a certain serenity to your backyard living space, and can be easily incorporated. Ponds also give you the option to add fish and aquatic plants to your landscape project. You'll be amazed at how your family and guests will be drawn to the water features, making them not only an inspiring conversation piece but a large part of your backyard relaxation.
When you are ready to bring new life to your outdoor living space, your local Ann Arbor patio contractor is ready to show you what's possible. Contact our team today to learn more about all the options a professionally installed hardscape can bring to your home.
"We recommend Twin Oaks to any entity looking for a full-service, talented, and responsive provider."
Therese Mahoney
Secretary/Treasurer of Doral Creek Condominium Association, Ann Arbor, Michigan