September 11, 2023
Everyone knows the importance of making your yard ready each spring, but few homeowners put the same value on preparing their property for fall and winter. A comprehensive fall cleanup is important to a healthy property not only during the winter, but also in preparing a beautiful yard for next spring.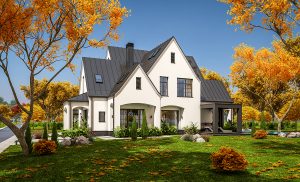 Cleaning up your property in the fall offers numerous advantages, including preparing for winter challenges by preventing hazards like falling branches and ice dams, reducing pest infestations, enhancing curb appeal, ensuring safety, promoting landscape health, facilitating lawn care, saving time and effort in the spring, extending property longevity, and providing personal satisfaction.
This proactive maintenance fosters a smooth seasonal transition, contributes to property value, and creates a safer, more attractive, and enjoyable outdoor space for the upcoming months.
Why is Fall Clean Up Important?
Once the weather becomes cooler, your landscape will remain in the state you leave it come winter, so you'll want to make sure that your lawn and landscaping are in the best shape possible before winter.
Failure to remove dead growth and decomposing leaves can put your soil and plants at a high risk for disease and fungus.
Weeds and thatch can rob your plants and lawn of the vital nutrients they need to hibernate property.
When your plants are in a less than ideal dormant state during the cold months, they will not come back as strong in the spring, so you may not get the same colorful, healthy landscape you have enjoyed.
Basic Tasks Included in Fall Clean Up
Tasks included in fall cleanup will vary slightly depending on the plantings and state of lawn and gardens on your own property. However, most fall cleanups would include some basics:
Pulling out Annuals/Reseeding Biennials (if they are included in your gardens)
Trimming back Perennials to prevent pests and diseases.
Complete weeding, pruning, and deadheading to remove all dead growth.
Planting Bulbs (if needed or desired)
Dethatching the lawn to remove all dead leaves and grass blocking the soil.
Overseeding your lawn to ensure a stronger lawn cone spring.
Fertilizing your lawn.
Final mowing, typically slightly higher than a usual summer cut
Leaf Removals
Removing all debris, branches, leaves, and old/overflowing mulch from your yard and gardens
Applying or refreshing Mulch to provide insulation to existing plants.
Winterizing your irrigation system.
Addressing Issues After Each Growing Season
Every yard will have its own unique needs and requirements. This is where having a landscape contractor can greatly enhance the overall health and look of your yard. When your landscape contractor has a strong knowledge of the soil, plantings, and design for your property, they can adjust the timing and tasks in your cleanups to suit your landscape. A professional landscape contractor will address issues that came up during the past year and adjust for them come the next growing season.
What Can I Expect from My Landscape Contractor?
As part of an all-inclusive Maintenance contract with your landscape contractor, you may have a provision regarding fall cleanup. In some contracts, fall cleanup will be included, while in others, you might need to contact your landscapers to be scheduled. Your landscape contractor Agreement will let you know what is included in their fall cleanup procedures.
It is important your landscape contractor has professional knowledge of the soils and plants on your property so they can address the specific requirements of each plant and each garden bed, then schedule the correct procedures and timing for the maintenance needed.
Twin Oaks Landscape provides a comprehensive fall cleanup in many of our landscape agreements, and we maintain complete records of your plantings, so we know exactly what needs to be done and when.
Cleaning up your lawn and landscape at the end of the season will set the groundwork for a beautiful landscape in the spring. If you take the necessary care to get your yard ready, you will reap the rewards.
Whereas, if you decide to simply let nature take its course, you will have a much larger and more complex cleanup project in the spring and may end up battling issues that could have been avoided.
A comprehensive all-inclusive contract with Twin Oaks Landscape can keep your yard looking great all year long. To learn more about how your Landscaping can be the best on the block, contact Twin Oaks Landscape today!
"We recommend Twin Oaks to any entity looking for a full-service, talented, and responsive provider."
Therese Mahoney
Secretary/Treasurer of Doral Creek Condominium Association, Ann Arbor, Michigan