July 21, 2022
The Iris plant was named after the Goddess of the Rainbow and blooms beautifully in the early summer season in Michigan. While there are many different types of iris plants from all over the world, there are a few that do well in this climate with the right landscaping and care.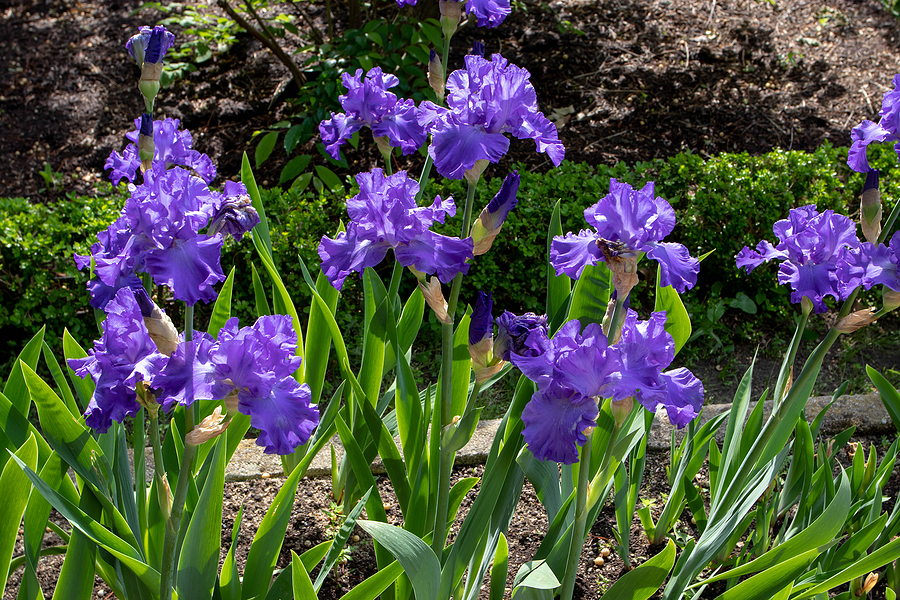 Types of Irises
In this area, the two main types of Iris plants you will see are the Siberian Iris and the German Bearded Iris. The Siberian Iris is often the traditional purple color many expect with an iris, although you will also see yellow. The German Bearded Iris has a wider variety of colors to choose from. Both are considered geophytes, which are perennials that have underground food storage, such as a bulb, tuber, corm, or rhizome. The underground food storage for these irises are corms and rhizomes. Both types of iris plants attract butterflies and hummingbirds and make an excellent addition to a cut flower bouquet.
Best Growing Conditions for Iris
Bearded Iris do not like too much water. Rhizomes can rot when there is too much water in the soil. However, Siberian Iris corms do well with moisture and often are able to thrive near ponds or other water sources. Both types of Iris plants love the sun and do well in areas with ample sunlight throughout the day.
When and Where to Plant Iris
Iris plants should be planted in late summer to early fall and do best if you get them in the ground before the nighttime temperatures drop too low. Because these plants do best in full sun, you'll want to choose a sunny spot where they will not be shaded out by other plants. Irises love well-draining and slightly acidic soil for optimal growth.
The bare rhizomes of Bearded Iris need to be planted horizontally with the top exposed and the roots underground. Iris plants do best if they are spaced 1-2 feet apart and are usually planted alone or in groups of three. You'll want to water your Iris plants thoroughly, but be careful not to leave them in soggy soil that could allow the roots to rot. Too much mulch can also encourage rot, so it's best to mulch them sparingly, and mostly just around their circle of long, sword shaped leaves. In the spring, old mulch and leaves should be removed, and plants can be fertilized. The top of the rhizome should continue to be exposed, unlike bulbs that usually are completely underground. Taller iris plants may need to be stalked so they do not fall over.
The corms of Siberian Iris can be planted deeper in the ground, much like traditional bulbs, and a little bit more moisture in the surrounding soil is ok.
How to Grow Iris
Iris tend to crowd over time and blooming can decline over the years unless the plants are divided every few years. Dividing Iris plants is actually good for the plant, and they will produce better blooms. Dividing your Iris plants is an excellent way to keep them thriving over many years. Before dividing a Bearded Iris, you will need to "fan" the leaves. When the iris plant is done blooming for the year, the stalks will need to be pruned at the ground or below the leaves. Any dead leaves should be cleaned out, but leaving the rest of the leaves will replenish the food storage for the next year. Siberian Iris do not need much clearing of spent leaves and their seed pods can be left to add another visual and textural interest to the landscape.
Iris plants are beautiful, but they do require some knowledge and care to keep them happy. Finding a landscaping expert can help ensure that your Iris plants are healthy, thriving, and ready to bloom for many years. Having someone who understands Iris plants will help keep your garden looking beautiful all season long. To learn more about our landscape maintenance services, contact Twin Oaks Landscape today! We can keep your lawn and flower beds looking their best, and our gardening experts will take care of all your seasonal pruning and plant care needs so you can spend your time relaxing and enjoying your beautiful landscape.
"We recommend Twin Oaks to any entity looking for a full-service, talented, and responsive provider."
Therese Mahoney
Secretary/Treasurer of Doral Creek Condominium Association, Ann Arbor, Michigan