January 17, 2020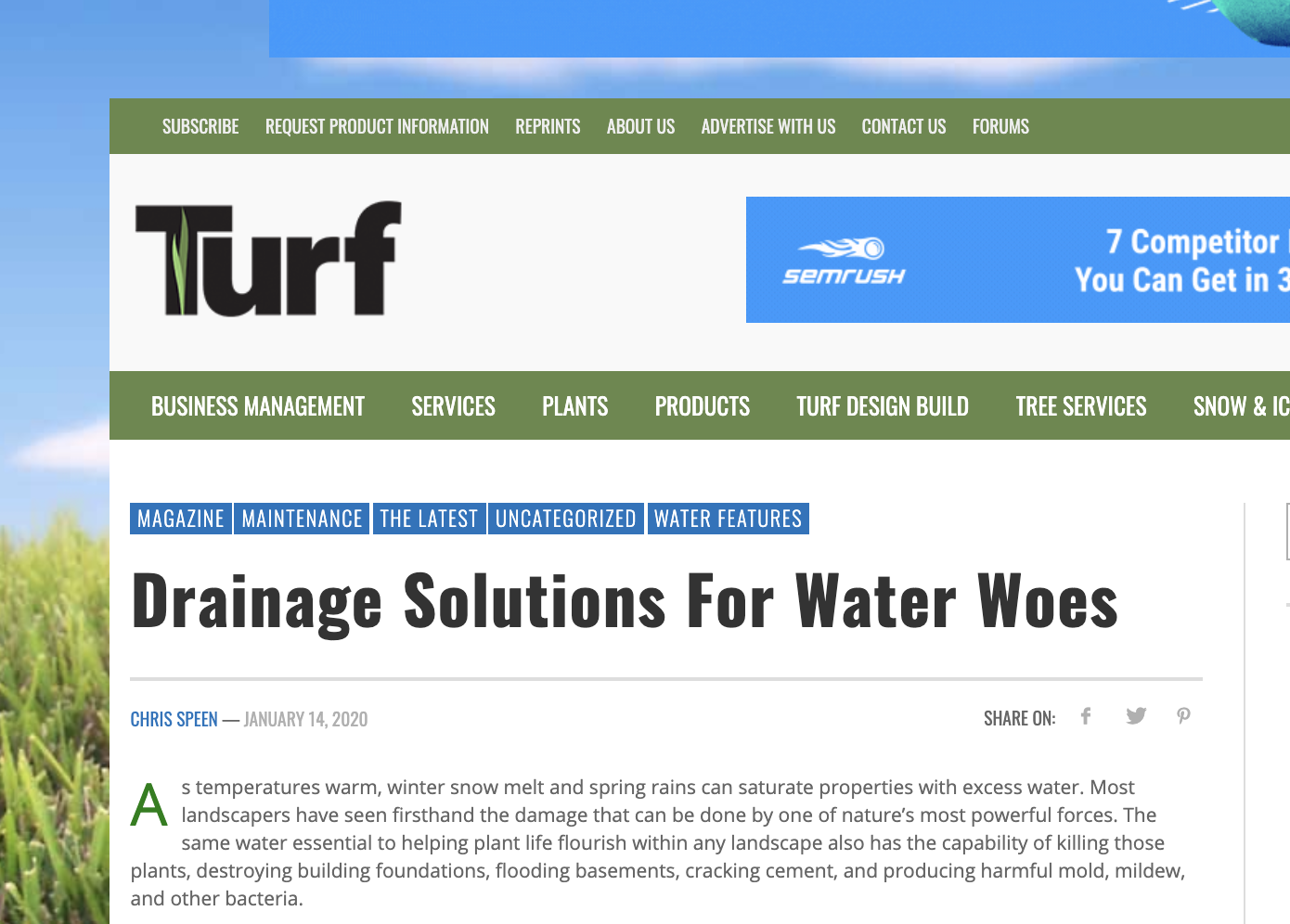 Here at Twin Oaks Landscape, we work hard to maintain a reputation as one of the best landscaping services in the Ann Arbor, MI, area.
Not only have we earned this reputation as a result of the quality of our work and our dedication to customer service, but also as a result of our general expertise.
Drainage Education
We know what we're talking about, which means that we are capable of properly educating our customers about their options when it comes to landscaping and drainage solutions. In fact, we are proud to say that our owner, Chris Speen's expertise was on full display recently when his article about drainage solutions was published in the winter 2019 issue of Turf Magazine!
Being published in Turf Magazine is no small feat and we are very proud of our owner. We are also very humbled that Turf Magazine thought so highly of his piece and that they featured it. If you're not familiar with Turf Magazine, they are a staple within the landscaping community.
Drainage Expertise On Display
Turf Magazine is one of the most reliable resources out there when it comes to keeping up-to-date with emerging trends, best practices, technical issues, and more. In fact, they are one of our go-to resources for landscaping information in general. As such, we are incredibly excited that they decided to publish Chris' article on drainage solutions.
Common Landscape Drainage Issues
The article that Chris wrote focused on two of the common drainage issues that landscaping companies tend to deal with most — surface runoff and improper drainage implementation. The article not only details a variety of drainage solutions that landscapers can provide to their clients (from yard re-grading to trench drainage and more), but he also went into further detail about the types of clients that landscapers tend to have and what their unique needs tend to be. As such, the article is a great showcase of Chris's knowledge about drainage issues and solutions as well as his experience in the landscaping industry.
If you want to read the article Chris wrote for Turf Magazine (we highly recommend checking it out as it's an excellent resource on drainage solutions), be sure to visit Turf online where it's free to read.
For information about the drainage solutions that we offer or for information about our landscaping services in general, be sure to contact us at Twin Oaks Landscape in Ann Arbor, MI, today.
"We recommend Twin Oaks to any entity looking for a full-service, talented, and responsive provider."
Therese Mahoney
Secretary/Treasurer of Doral Creek Condominium Association, Ann Arbor, Michigan