December 1, 2021
When it rains, it pours. And when it doesn't, we must water. That is a universal truth about maintaining a beautiful lawn.
What isn't true is that watering your lawn has to be difficult or time-consuming. Installing the correct lawn irrigation system will save your lawn, your time, and can make a huge difference in how easy your lawn is to care for.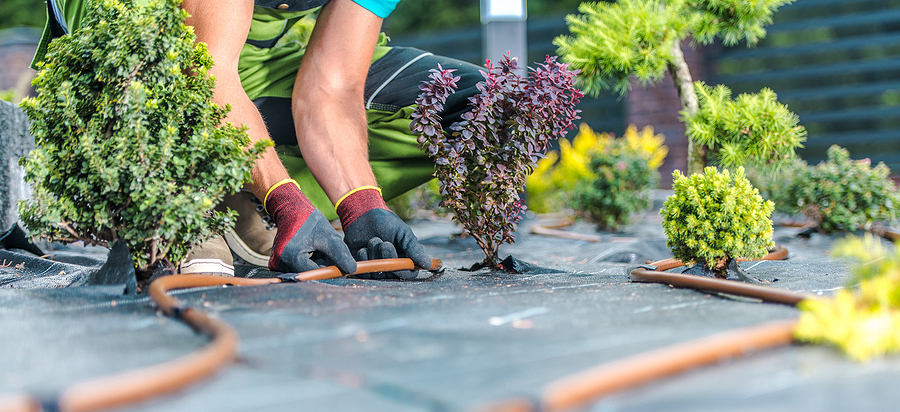 The First Step To Easy Maintenance
A well-designed lawn irrigation system will save you time and money, is more eco-friendly, and protects your lawn and plants.
While all modern lawn irrigation systems are automatic, today's systems no longer simply run on a timer. Gone are the days when your sprinklers ran in a rainstorm. The newest systems come with a smart controller. With a smart controller in place, your system will gauge when it is time to water and stop running when the proper amount of water has been delivered to your lawn.
Your landscape contractor will install your system in an optimal configuration, ensuring that you will never need to spend time with a hose or sprinklers to ensure that your lawn and gardens are adequately watered.
Water bills are increasingly expensive. Hand watering and old-fashioned sprinklers waste a great deal of water and cause unwanted runoff. By restricting the amount of water delivered, you save money every time you water. Your lawn and plants will be healthier and live longer, saving you money and increasing the attractiveness and value of your property.
Protects your lawn and garden from over and under watering:
With the clay soils that are so common here in the Ann Arbor area, it is vital that an irrigation system not add excess water to our lawns, causing more drainage issues and creating soggy, wet lawns. Slow, steady, deep, and regular watering is the key to maintaining a healthy lawn, especially here in our area. An irrigation system is the best way to ensure your lawn gets the right amount of moisture it needs without overwatering.
By reducing water and using systems optimized to deliver the right amount of water at the right time, you'll save water. By reducing runoff, the additives your landscaper has used to keep your lawn healthy will stay where they belong, not down the storm drain and into the water system.
The Key To A Problem-Free Sprinkler System
Hiring an experienced landscape contractor to install and maintain your new lawn irrigation system makes all the difference. This is a big investment in your home, and you want a system that works well for many years to come, not one that creates more problems than it solves. While the initial installation may seem costly, a properly installed, high-quality system that is right for your needs will pay for itself in a short time. An irrigation system adds value to your property and protects your landscape investment.
Regular checkups and system maintenance are also essential components in keeping your lawn irrigation system working its best. Your landscape contractor will inspect the sprinkler heads, test the lines, update the programming, and do a full system test. This should be done annually or whenever part of your system is not functioning correctly.
The team of professional landscape contractors at Twin Oaks Landscape has the experience and local knowledge you need to keep your lawn and landscape looking its best. If you are considering installing a lawn irrigation system on your property, contact us to learn more about our high quality systems and regular maintenance services.
"We recommend Twin Oaks to any entity looking for a full-service, talented, and responsive provider."
Therese Mahoney
Secretary/Treasurer of Doral Creek Condominium Association, Ann Arbor, Michigan