An important part of any successful business is a strong image. When clients come to visit you want them to leave with a positive impression of your company. As such, a well-manicured, visually striking lawn can certainly help. Your front lawn will likely form your client's first impression of your busi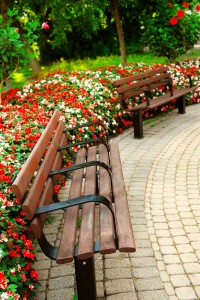 ness, and while you might think such matters would not factor heavily in their thinking the fact is that whether they choose to actively focus on it or not the brain will naturally identify a poorly maintained lawn as a sign that a company or business is perhaps a bit less professional than some of their more detail-oriented competitors. At Twin Oaks, we understand the power of a good first impression, and as such we'd like to help you make one. If you want to create a lawn that will catch the attention of clients and make your business stand out from the pack just give us a call.
Softscapes: At Twin Oaks we're able to find the ideal plants for any application. Carefully choosing which plants you'd like in your yard is extremely important. Choose something too garish and clients may find you too casual or playful. Choose something overly serious and clients may be intimidated and nervous. Choose something effective and attention-grabbing and your business will become more memorable or even more trustworthy in the eyes of clients. The right landscaping really can make a huge amount of difference.
Hardscapes: We have a number of hardscapes to choose from, many of them ideal for businesses of all kinds. Perhaps you need a new walkway to allow your clients to reach your business with ease. Maybe your driveway has endured some scrapes of the years and might benefit from some repairs or even a complete replacement. Whatever your business requires, Twin Oaks can deliver.
Maintenance: Of course, whatever landscaping you do will need to be maintained. Creating a beautiful yard only to leave it to the machinations of the seasons would be an unfortunate waste. However, we understand the great demands of operating a business. If you don't have time for landscaping but you still want to maintain a beautiful lawn, call Twin Oaks and inquire about our maintenance programs, everything from lawn mowing to lawn fertilization to tree pruning. We promise to leave your yard looking beautiful every time.
Solutions: As worrisome as it might be, there are worse problems out there than a poorly mowed lawn. One of these issues can really put a damper on your landscaping project, and therefore the image of your business as well. That's why Twin Oaks offers custom solutions for a wide range of problems. Excess moisture? Dying plants? Too little light? Twin Oaks can help. Just tell us what you need.