June 8, 2015
When designing your landscape, you will find many kinds of materials available to use for hardscaping. Some outshine others, however, in both aesthetic appeal and durability. Stone and brick have long been favored materials among garden and landscape designers, and there are good reasons for this.
Stone and Brick Possess Natural Durability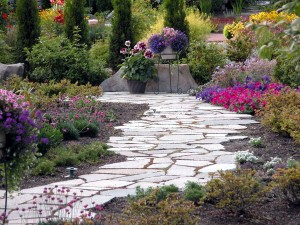 With the hard freezes, heavy moisture and yearly temperature variations experienced in Ann Arbor MI, materials used for hardscaping need to be exceptionally durable. Stone and brick can withstand rain, sleet, snow and sun better than concrete, pavement, or even plastic.
When moisture seeps into tiny fissures or holes and then freezes, hardscaping made of concrete or pavement tends to crack or buckle. Many plastics become brittle after long exposure to sunlight or to freezing temperatures. Natural stone is harder and more difficult to damage, and it retains its beauty even if does develop cracks. Brick also holds up well to the elements while maintaining natural beauty when weathered over the seasons.
Choose Stone and Brick for Water-Conserving and Soil-Conserving Landscaping
Permeable hardscaping allows rain or melting snow, as Ann Arbor MI often experiences, to seep into the ground between bricks or stone rather than pooling or running off, as it would when you use solid concrete for patios or walkways. This conserves water, as it goes into the ground rather than evaporating. It also prevents soil erosion by letting water trickle down into the earth rather than channeling water runoff into limited areas, such as at the end or sides of a pathway.
Stone or brick can be used for pathways, patios and wherever else you desire permeable hardscaping. Use river rock around stone or brick pavers to create attractive level surfaces that maintain this permeability throughout.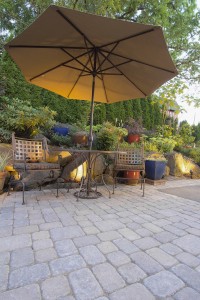 Stone and Brick Bring Unmatched Beauty to the Landscape
Aesthetically pleasing and versatile, stone and brick offer luxury ambience that is difficult to attain with other hardscaping materials. The strength, durability and ability to weather gracefully make these ideal for raised flowerbeds, retaining walls, fountains, ponds and other features.
Using Stone or Brick in Hardscape Design Styles
Here are examples of how to use stone or brick to create or enhance certain design styles.
• Cottage Garden: Create retaining walls using rough-hewn or uncut stone.
• English Garden: Use cobblestones for pathways and stone edging around raised beds. Natural stone walls have been a common sight in the United Kingdom for centuries and provide old world flavor to landscapes created with this design style in mind.
• Colonial Garden: Handsome brick pathways and retaining walls or edging add charm to the colonial style.
• Tuscan Garden: Tuscan landscaping design makes ample use of stone. Use it for walls and paths.
When you invest in stone or brick for your hardscape, you can expect to enjoy it for many years – often as long as you own the home. While the upfront cost m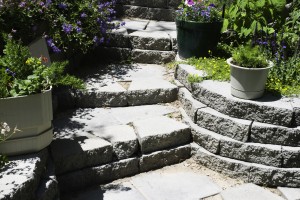 ay be higher than some materials, it is well worth paying extra for the increased value and beauty stone and brick brings. Consider these materials first whenever you are adding hardscape features and want the best.
Get your yard looking its absolute best with custom landscaping solutions from Twin Oaks. Find us online at https://www.twinoakslandscape.biz/, visit us in Ann Arbor, MI at 4100 South Maple Road, or call us at (734) 213-6911.
"We recommend Twin Oaks to any entity looking for a full-service, talented, and responsive provider."
Therese Mahoney
Secretary/Treasurer of Doral Creek Condominium Association, Ann Arbor, Michigan