April 28, 2015
Waking up to a blooming garden is one of the best feelings a homeowner can have. It is very satisfying to walk into the garden and harvest the fruits of your labor. Being successful in gardening involves more than just planting, as ample planning will largely determine the success of your work. Our company specializes in all landscaping concerns in Ann Arbor MI, and should be of utmost importance whenever you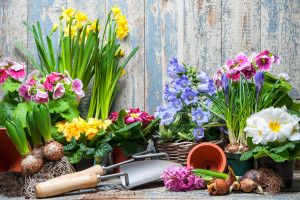 have issues regarding gardening. Take into account factors such as the amount of available space, plants that you need most, and of course labor requirements for each type of plant. Early planting is necessary as the crops will have enough time to mature and ensure you have your yields in time.
Factors Influencing Garden Location:
Water supply
Choosing a spot close to a water supply is necessary for convenience. It will save you from using long hose pipes thus reducing the cost of purchase. This will also ensure you have your garden frequently watered.
---
Soil type
The soil needs to be fertile and well drained. It is important as it will reduce water logging in case of prolonged rains.
---
Openness to air and sunshine
High winds can have a damaging effect on your crops, thus choose areas without high winds. Adequate exposure to sunlight is also of utmost importance as there is no amount of water, plant care or fertilizer can substitute desirable sunlight.
The next big thing is to determine which crops to plant. Put into consideration the size of your family, as it will influence the amount you require each day. Furthermore, those vegetables that are needed on almost daily basis are expensive in the long term and should be given priority. Cool period plants are those which can thrive during the cooler temperatures and shorter days and are the best bet. In fact, some of these develop better aromas when nipped by frostiness. The following plants should, therefore, be planted early during the season.
Cabbage
Transplant the seedlings into the open air two weeks before the final frost date. Cabbage plants require soils that are fertile and rich in organic substances.
---
Broccoli
The seeds of broccoli can be sown directly into the garden four weeks before the last frost date. Broccoli should be fed three weeks after transplanting with low nitrogen fertilizers.
---
Carrots
Carrots require loose and deep soil in order to form a healthy root. Their seeds can be sowed in spring, roughly two weeks before the eventual frost date. Excessive nitrogen leads to forked roots.
---
English peas
Their seeds can germinate in low soil temperatures, meaning you can sow 4-6 weeks before last frost date. The seedlings can also withstand late snow.
---
Kale
You can plant in early spring and cover with frost coverings when severe cold strikes. Fertile soils encourage tender leaves and rapid growth in kale.
---
Lettuce
As long as the soil is workable, you can sow lettuce seeds anytime in spring. You can also take comfort in the fact lettuce can dwell in part shade and can be supplemented with fish emulsion.
---
Spinach
Its seeds can dwell over frozen ground before germinating once the soil thaws. You should fertilize once the plants are four inches tall.
We have been in business for long enough to know each detail of your gardening concerns in Ann Arbor MI, thus, feel free to consult us anytime your garden is involved.
Get your yard looking its absolute best with custom landscaping solutions from Twin Oaks. Find us online at https://www.twinoakslandscape.biz/, visit us in Ann Arbor, MI at 4100 South Maple Road, or call us at (734) 213-6911.
"We recommend Twin Oaks to any entity looking for a full-service, talented, and responsive provider."
Therese Mahoney
Secretary/Treasurer of Doral Creek Condominium Association, Ann Arbor, Michigan