July 12, 2015
Natural stone has a timeless beauty to it, and is perfect for creating hardscapes on your property. Choosing the appropriate theme and structures, however, can prove to be quite difficult. Knowing what to build, where to put it, and envisioning how it will look after completion requires a bit of planning and research. If you're interested in using natural stone to invigorate your lawn or property in Ann Arbor MI, take a bit of time to read about potential ideas.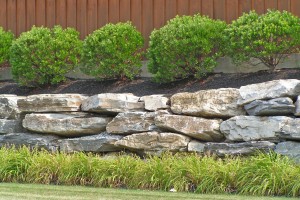 What will you be building?
When deciding to build stone hardscapes, it's important to consider what would appropriately accentuate desirable features on your property. If your goal is to do a stone patio, then your major concern would typically be size and location. For a bit more in depth construction ideas, figuring out the nuances of your yard will be important. Take a walk around your property, look at how shrubs and flowers are placed, and try to get a feel for the flow. A great use for hardscape construction is a stone walkway, so finding out where a walkway would be most appropriately placed is very important.
Emphasis on context
Walls and other more time intensive structures can be used to place emphasis on a walkway or path, while separating desirable areas intended for different purposes. Which features you wish to incorporate depends largely on your local landscape, and the layout of the area you want to build on. Play on the strengths of your property and emphasize what you think is the most beautiful aspect.
What should you build with?
In Ann Arbor MI, the climate will lend itself to specific materials more than others. For example, the idea of using limestone to accent a pond or walkway may sound attractive, but as a stone primarily found in desert locales, it might look a bit out of place after all is said and done. Sticking with a building material that works with your yard rather than against it can have a tremendous impact on the overall impressions of the finalized project. Here are a few more materials to consider while keeping the climate of Michigan in mind: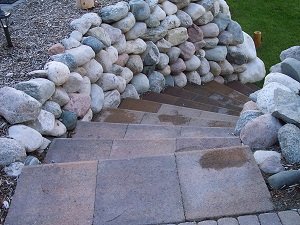 Fieldstone – Common for walls, fieldstone has a very rustic look to it and varies in color and is characteristically flat.
Granite – A nonporous stone, granite blends well with plants, soil, and other natural features.
Flagstone – Great for walkways, flagstone is naturally flat and easily placed. Flagstone may be slippery when wet, though, so consider texture when building a walkway.
Slate – If you're concerned about the potential of a wet and slippery walkway, slate may be your best option. Naturally water resistant, slate is a great material for use in walkways and patios.
With an idea of what specific construction you're after and some information regarding materials, you're well on your way to building a beautiful stone hardscape. Try to keep in mind the big picture throughout both planning and construction, however, and remember to play on the strengths of your property!
Get your yard looking its absolute best with custom landscaping solutions from Twin Oaks. Find us online at https://www.twinoakslandscape.biz/, visit us in Ann Arbor, MI at 4100 South Maple Road, or call us at (734) 213-6911.
"We recommend Twin Oaks to any entity looking for a full-service, talented, and responsive provider."
Therese Mahoney
Secretary/Treasurer of Doral Creek Condominium Association, Ann Arbor, Michigan