August 1, 2016
Despite its abundance of plant life, the terrain surrounding the typical suburban residence is as much a man-made feature as the house itself. Knowing this, it's easy to see how the addition of structural elements, hardscapes, to the yard can make it more enjoyable. Nearly all homes have things like sidewalks and porches that are both functional and attractive, but installing the right structures beyond these basics not only further enhances the outdoor experience, they can boost the property's value too.
The Best Hardscape Projects
Not all outdoor additions are created equal. Some can be counted on to raise home values due to their almost universal appeal. The following stand out among the possibilities because they work well in Ann Arbor MI or just about anywhere else.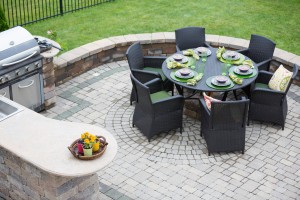 Patio
Patios are fairly commonplace, but it's still important to choose the right kind. It's tempting to just pour a slab of concrete to create an inexpensive place to lounge. While it's better than nothing, switching to brick or pavers to create a design will produce noticeable returns. Even as a flat surface, patterned patios add to the aesthetics of the property, but including built-in benches and a low fire pit, as long as it's not overdone, can contribute even more.
Pond
Adding water to the landscape provides a focal point that's both mesmerizing and soothing. The key is to keep it small so it's affordable to maintain, aesthetically pleasing, and safe. Adding a fountain helps keep the water clean while producing the sound of flowing water many people find comforting. Water lilies are another nice touch, but stocking the pond with fish requires lots of unattractive extra maintenance work.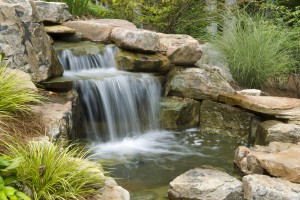 Garden Path
People prefer to have the option of admiring flowerbeds close up as well as at a distance. Having a winding garden path to show the way is always appreciated by just about everyone. As with patios, brick, stone, or pavers are the best options for creating a walkway that's decorative and functional. Installing garden paths eliminate the eyesore of worn trails in the lawn. They also provide a clean, safe surface leading from the house to all the intriguing spots in the yard. Just remember that garden paths always benefit from the inclusion of lighting to make them accessible after the sun goes down.
Outdoor Room
These structures are more elaborate than patios. They can serve as extensions of the house or be free-standing like a gazebo. Often, these hardscapes include extensive awnings or pergolas to provide overhead cover from the sun and the weather. Sometimes, they'll also be enclosed on one or two sides by low masonry walls that perform extra work as protection and a source of warmth for cold-sensitive plants. There are examples of homeowners using such features as extensions of their kitchen complete with refrigerators and sinks, but this wouldn't be very practical in the outdoor climate of Ann Arbor MI.
"We recommend Twin Oaks to any entity looking for a full-service, talented, and responsive provider."
Therese Mahoney
Secretary/Treasurer of Doral Creek Condominium Association, Ann Arbor, Michigan