January 27, 2016
Landscapers divide the types of design work they do into two categories: Softscaping refers to plantings and other living elements in the landscape, while hardscaping refers to landscaping elements built from hard-wearing materials such as stone or concrete. Real estate agents in Ann Arbor MI have known for years that landscaping increases a home's resale value, but recent trends in home sales show that hardscapes can also increase your home's resale value. These hardscape elements are most likely to get you a better price for your home.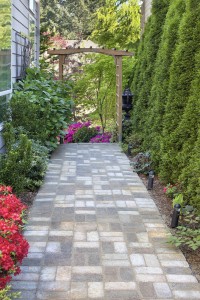 Walkway
In the front of your home, a concrete or stone walkway can dramatically increase your home's curb appeal. A sidewalk that borders the front of your property gives your home a neat, well-maintained look, while a walkway that leads to the front door draws the eye to your home's entryway, adding an exclamation point to your home's positive first impression on potential buyers.
Elsewhere on your property, walkways that lead to other landscaped areas promote usability and give the impression of a larger space.
Fire Pit
According to the Society of Landscape Architects, a stone fire pit and seating area is the most popular hardscape element in landscape design. Fire pits are a great way to turn your unused lawn or patio into a place for your family and friends to socialize and give buyers the sense that your house promotes the togetherness that will make it feel like home.
Outdoor Kitchen
All outdoor living spaces increase a home's usable floor space and increase its value. That's probably why one of the most attractive hardscapes is an outdoor kitchen with a built-in grill. It also makes entertaining guests easy because an outdoor kitchen does not separate the guests from the hosts while the food is being prepared. Adding a dining area to the outdoor kitchen increases its appeal.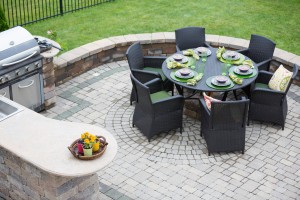 Patio
Probably the most prolific of all hardscapes, the patio is still one of the most desirable landscape elements. Because a patio essentially adds usable square footage to a home's floor plan, backyard patios increase your home's resale value. That increase is even more pronounced when the patio also includes flower beds, a water feature, a fire pit or permanent seating.
Retaining Wall
If your home is built on a hill, retaining walls are a good investment in your home's value. Not only are they attractive, they also prevent your home's foundation from shifting along with the hillside. Unlike wood railroad ties, using stone for your retaining walls ensures that they last a lifetime. If the needed retaining walls create a terraced property, adding stone steps makes your property more accessible and, therefore, more valuable.
When to Add these Features
Unlike a fresh coat of paint or a new front door, most hardscaping is not meant to be done as preparation for listing your home for sale in Ann Arbor MI. Rather, these projects are meant to increase the enjoyment of your home with an eye for increasing its value in the future.
Get your yard looking its absolute best with custom landscaping solutions from Twin Oaks. Find us online at https://www.twinoakslandscape.biz/, visit us in Ann Arbor, MI at 4100 South Maple Road, or call us at (734) 213-6911.
"We recommend Twin Oaks to any entity looking for a full-service, talented, and responsive provider."
Therese Mahoney
Secretary/Treasurer of Doral Creek Condominium Association, Ann Arbor, Michigan