May 1, 2016
If you are thinking about making a permanent addition to your yard with the addition of hardscapes, you may be wondering which features you should add to your space. There are many factors to consider when making this decision, and one of the key factors relates to how much value each improvement will add to your home. When you want to choose new additions that will add the most value to your space when you sell the home, consider these points.
Patios and Porches
Patios and porches are two of the most functional features that you can add to your space with hardscaping materials such as pavers, flagstone and other types of rocks or bricks. They add the functionality of a paved area that can be used for entertaining, barbecuing, relaxing with family and friends and more. Many people look for a gorgeous outdoor space when they are interested in buying a new home, and you can add these spaces to the front or back yard of your Ann Arbor MI home for beautiful results. These features often add considerable re-sale value to a home.
Sidewalks and Walkways
You may currently have concrete walkways or even dirt or gravel pathways that are in use around the home, and you can dress up your space when you turn these areas into your next hardscaping project. This can transform the look of these areas, and when they are dirt or gravel, they can add the functionality of having a paved surface that is easier and safer to travel across. Take time to analyze your yard today to see where you can add a paved sidewalks or walkway for beautiful results that you will love.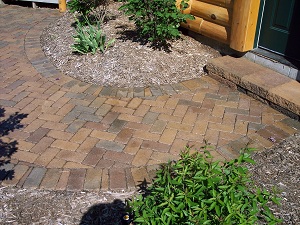 Planters and Flowerbeds
A final option to consider that can add re-sale value to your home is the addition of planters and flowerbeds. There are few things that can dress up curb appeal more easily than a gorgeous flowerbed, and your flowerbeds will look amazing when they have a rock, brick or paver border surrounding them. If you are interested in improving your home's curb appeal or in dressing up the backyard space, installing flowerbeds is a wonderful idea. Bear in mind that you can make tiered or cascading flower beds, winding or meandering flower beds or some other type of border around the home that will take the look to the next level. Curb appeal plays a major role in re-sale value, and you will love what these features add to your home.
Regardless of whether you plan to relocate in the near future or not, it makes sense to make changes to your Ann Arbor MI home that are cost-effective and that will add value that you can recoup later when you sell the home. As you can see, there are a number of projects involving hardscapes that you can choose to move forward with, and you can hire a landscaper to assist you with the design and installation of your new features for the best overall results.
"We recommend Twin Oaks to any entity looking for a full-service, talented, and responsive provider."
Therese Mahoney
Secretary/Treasurer of Doral Creek Condominium Association, Ann Arbor, Michigan