July 24, 2015
There is no one-size-fits-all approach to selecting the hardscape features you'll add to your home's exterior spaces. Smaller areas could become more functional with some chairs and a small patio. For larger properties, carefully placed walkways can create natural boundaries. Retaining walls can be both practical and decorative while value to your home. These are just some of the factors worth considering when deciding what hardscaping additions will look best around your Ann Arbor MI home.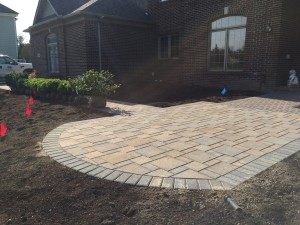 What Are Your Landscaping Plans?
Think about what you want to do with your landscape. Do you want to add seasonal flowers? Are you considering adding extra trees for shading? By considering your landscaping plans first, you'll be able to choose hardscaping options likely to enhance your existing green spaces while leaving room for additions (i.e., some more flowers, a vegetable garden) later.
Do You Want to Embrace Your Surroundings?
If finding a balance with your natural surrounding is important, symmetrical shapes tend to accomplish this goal. This approach to hardscape also tends to be popular with home buyers. Should you prefer something a little more orderly, especially if you don't have much to work with as far as your natural surroundings go, formal shapes (straight lines, rectangles, squares) tend to work best.
What's Your Focal Point?
The key to successful hardscaping is finding a single point to serve as a basis for the set-up of the rest of your space. This "focal point" can be a prime gathering spot or a favorite hardscape element or piece. For example, if you have your heart set on a large patio in a small backyard, a well-designed patio space can serve as your focal point with container plants as accessories. Hardscaping focal points can also include:
• Fire pits
• Gardens (enhanced with walkways and garden stones)
• Outdoor kitchens
• Patios
• Fountains
• Pools
What Fits Your Lifestyle?
Hardscaping is about what best fits into your lifestyle. Selections for your Ann Arbor MI home shouldn't be based solely on what's trendy. An outdoor kitchen, for example, isn't going to benefit you all that much if you frequently travel. If you do entertain a lot or spend your free time outdoors as much as possible, a fire pit can warm up cool Ann Arbor evenings.
Where's the Green?
As a general rule of thumb, hardscaping should take about a third of your yard. Too much hardscaping can create a sea of gray. Gazebos, arbors, pergolas and trellises are just some of the hardscaping elements that can easily be designed around trees, flowers and gardens to add some variety and color to your outdoor spaces.
Hardscaping has a longer lifespan that most of your landscaping choices, so it's a good idea to take your time to weigh your options before making decisions. Ideally, you want something that's going to add to the beauty and value of your Ann Arbor MI home while leaving room for future landscaping adjustments.
Get your yard looking its absolute best with custom landscaping solutions from Twin Oaks. Find us online at https://www.twinoakslandscape.biz/, visit us in Ann Arbor, MI at 4100 South Maple Road, or call us at (734) 213-6911.
"We recommend Twin Oaks to any entity looking for a full-service, talented, and responsive provider."
Therese Mahoney
Secretary/Treasurer of Doral Creek Condominium Association, Ann Arbor, Michigan