March 22, 2016
Having an attractive and luxurious lawn is the goal of many homeowners, but remember that your lawn needs assistance if it is to look its best. After a proper fall feeding and a long winter season, your lawn will wake up in early spring hungry and ready to go. Apply it too early and you can compromise the health of your lawn. Apply too late and the window of opportunity will already have passed.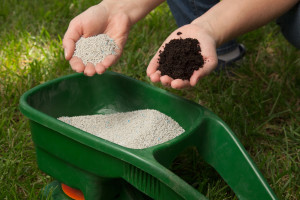 First, be patient:
Every year, it seems we're buried under snow and winter will never go away. Then around mid-March, temperatures begin to rise and with them comes the need to see green shoots poking through the soil. So that means it's time to break out the broadcast spreader, right?  Not so fast.
"Be patient." cautions Bob Bricault of Michigan State University Extension. Fertilizing too early can result in a compromised root system and lackluster growth. The reason for this is simple: Long before you actually see green grass, the plant's root system comes out of dormancy and begins to expand and deepen. Using a fertilizer at this point would only deplete the carbohydrate reserves needed for root development and overall hardiness.
Understand that preparation is key:
Early spring is the time to prep your lawn for later feedings. Snow is very common in Ann Arbor MI and can stick around well into mid to late March. A good early spring practice is to rake your lawn in the areas that received the most snow, such as alongside your front walk and driveway where snow was tossed as it was shoveled. The high level of moisture in these areas can cause mold and fungi to grow on the grass blades. Gently raking these areas encourages them to dry before the mold can damage the grass. Early spring is also the best time to get rid of any crabgrass left over from the prior year. Buy a good herbicide designed specifically for crabgrass and apply in late winter/early spring, right around the time the forsythia begins to bloom.
Knowledge is power! Fertilize in May and know your grass type:
Despite what television advertisements would have you believe, it is actually best to wait until May to begin fertilizing. In Ann Arbor MI cool-season grasses such as Kentucky Bluegrass and fine fescues are common. They do very well in northern climates and have a growing season that begins in late spring and continues through June until becoming dormant in late summer. Understanding this growth cycle is key to a successful feeding plan.
Make sure that you perform a soil test to find out the pH of your soil. pH is a measurement that determines the overall acidity/alkalinity of your soil. The pH will determine which type of fertilizer will be the best for you to use. You should shoot for a pH that is neutral, around 7.0
Using the three simple procedures described above will result in a healthy lawn that is easy to care for.
Get your yard looking its absolute best with custom landscaping solutions from Twin Oaks. Find us online at https://www.twinoakslandscape.biz/, visit us in Ann Arbor, MI at 4100 South Maple Road, or call us at (734) 213-6911.
"We recommend Twin Oaks to any entity looking for a full-service, talented, and responsive provider."
Therese Mahoney
Secretary/Treasurer of Doral Creek Condominium Association, Ann Arbor, Michigan