May 9, 2016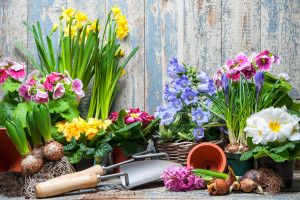 Spring is a season of rain and beautiful flowers, but spring can also be a time for mud, leftover winter debris, mossy surfaces and a less-than-tidy landscape. Cleaning up your property in the early spring will allow you to enjoy beautiful landscaping that enhances your home in Ann Arbor MI. There are several steps you can take to clean your property, including:
• Cleaning up debris
• Pressure washing mossy surfaces
• Eliminating muddy surfaces
Clearing Out Yard Debris
Cleaning up leaf litter, twigs and other types of debris allows your lawn access to sunlight so it can thrive. Garden bugs and pests will also be removed from your garden, as many of them lay eggs or hide in lawn debris. Fungus and mold can also grow under wet yard debris in Ann Arbor MI. A clear lawn and clean flower beds will help to ensure the following:
1. A healthy lawn
2. Elimination of hiding spots for pests, fungus and mold
3. A tidy, beautiful property
Depending on the amount of debris you have on your property, you may need to find a way to dispose of the debris as well. A mulch or composting business may be happy to take your yard debris, and your local landscaping company can make arrangements to haul the debris away for you.
Pressure Washing Moss and Algae
Moss and algae tend to establish themselves in the early spring on sidewalks, driveways, and other outdoor surfaces. They can become slippery when wet and can pose a hazard on walking surfaces. Pressure washers can clear these surfaces of unsightly, slippery moss and algae on your property and will create safe walking areas for your family and guests. You can also pressure wash surfaces to prepare them for paint, such as:
• Fences
• House siding
• Garden sheds
Cleaning your sidewalks fence and the siding of your home with a pressure washer will give your home a clean and tidy look for the upcoming summer. By using nothing more than water, pressure washing is a natural way to clean your home and property.
Eliminating Muddy Surfaces
Winter snow and rain can create many muddy areas in the garden with low spots generally collecting water that can create mud and kill the lawn or nearby plants. Filling in these low spots with mulch and reseeding lawns with new grass seed can help to eliminate muddy areas with seasonal cleanup. Now is also a good time to evaluate your property for any structural changes you can make to improve drainage. Your local landscape company can advise you about best options for drainage systems that will eliminate muddy areas in your yard.
Landscaping Services in Ann Arbor MI
There are many property cleanup tasks to attend to in the spring, and hiring a professional landscaping company to assist you will ensure that you will have a beautiful yard to enjoy for the summer. With efficient tools and skilled expertise, your seasonal cleanup tasks will be complete in no time.
"We recommend Twin Oaks to any entity looking for a full-service, talented, and responsive provider."
Therese Mahoney
Secretary/Treasurer of Doral Creek Condominium Association, Ann Arbor, Michigan