November 24, 2014
Like other maintenance done around the home, snow removal has to be done for safety of people coming in and out of your home. That includes yourself, guests and the mail carrier. There are ways to make the removal an easier process before one snowflake hits the ground.
Be Aware
Watch weather reports frequently in Ann Arbor Michigan, so you're not surprised by snow storms. You'll need to prepare ahead to be sure you have shovels and ice removal supplies. It can't hurt to check your supplies to be sure you have everything needed for the season long before the first storm.
It's important to have good shovels, anti-icing chemicals and sand. Don't forget warm gloves with battery operated warmers for when you're shoveling.
Anti-icing
Before the snow falls, anti-icing techniques will stop the liquid that forms under the snow from freezing. It can reduce the snow accumulation by 2-3 inches as well. This reduces the amount of snow to be shoveled after a storm. Choose chemicals that won't harm plants or pets when you apply them long before the storm.
There are wet solutions that homeowners can use to cover the ground completely instead of throwing dry ice which will bounce and fly without covering the area.
Snow Removal Solutions
Removal companies in Ann Arbor Michigan are bombarded during a heavy snow fall. Once you know there will be a storm, call your removal company to schedule in advance. They'll be sure to fit you in at the time that's most convenient for you so you can get to work while others are still clearing their walkways.
This is the time to find out about discounts for scheduling early too. If you have service that is automatic, be sure you talk over the scheduling with the company. Will they come during the storm or wait until the storm is over? You might have to call in late for work while you're waiting.
Shoveling
If you're shoveling instead of calling a removal company, don't wait for the storm to be over before you head outside. You'll have hundreds of pounds of snow to shovel off your driveway if you do. Take the time to shovel every few hours depending on the rate of the snow fall. It's easier to remove snow in increments than all at once.
Stretch before heading outside
Shovel in small patches as not to be overwhelmed
Take frequent breaks
Pick up small amounts each time
It's less strain on the back too. Many people hurt their backs or strain their hearts when they are shoveling without taking proper precautions.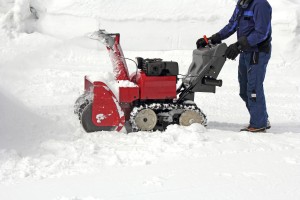 Snow Blower
Before the season starts, ensure that the snow blower has plenty of fuel and starts properly. After sitting in the garage for months, it might need some routine maintenance too. Don't wait until the last minute to repair or maintain the snow blower since you could end up in white stuff to your ankles with a broken-down snow blower.
If you think about snowfall and its removal long before the first white flake falls, you will be able to prepare and lessen the demands of snow removal.
"We recommend Twin Oaks to any entity looking for a full-service, talented, and responsive provider."
Therese Mahoney
Secretary/Treasurer of Doral Creek Condominium Association, Ann Arbor, Michigan