October 5, 2015
Fall is known for its beautiful colors and welcomed cooler temperatures, and it is also a perfect time to spruce up your flower garden. With the weather cooling down in Ann Arbor MI, heading out to spend time in the yard is an excellent way to celebrate the changing of the seasons.
Pansies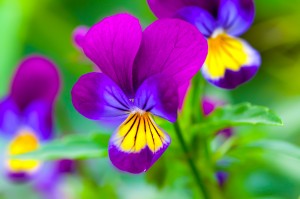 A wonderful way to add color and texture to your flower beds in the fall is to plant pansies. These delicate but hardy flowers come in an array of colors and varieties. Since Ann Arbor MI is in Hardiness Zone 6a, the earlier you plant pansies the better. Giving the pansies time to establish good, strong roots will help the pansies weather the sub-freezing temperatures of winter months. Varieties that have thrived in the fall and winter seasons in Zones 4-6 are the Delta, Sky, Accord, and Bingo series. A type of viola called Icicle Pansies have stood the test of frigid winters in Zone 4, as well as pansies in the series of Maxim and Crystal Bowl.
Kale
Flowering kale is a beautiful compliment to pansies in your fall gardening. It provides lovely color and vibrancy to any flowerbed. Providing full sun to partial shade is best for this biannual plant. Also, flowering kale can easily withstand the fall months, but with heavy snow and frost it will collapse.
Diascia 
Another flowering plant which offers spectacular color is Diascia. A periennial in the South, the Diascia is a wonderful annual to add to your flower bed or outdoor flower pots. The colors vary from soft pastels, bright oranges, deep reds, and vibrant plums.
Once you have planted annuals in your fall flower beds, now you can use this time to plan ahead for your spring collection of flowers. Planting bulbs in the fall allows for a course of cold dormancy for optimum blooming in the spring months. You will ensure a beautiful spring display of color by planning ahead and planting spring bulbs in the fall. The optimum planting time is from September 15-November. Since Ann Arbor MI is in plant hardiness zone 6a, the range of spring flowering bulbs to plant is vast. From wild tulips to any narcissus (daffodil) to the lovely scented hyacinth to the ever-vibrant gladiolus, you will not be lacking in options while shopping for bulbs. Because the fall can be somewhat dry in Ann Arbor, making sure to water the bulbs after planting will help establish a strong root system for the bulbs.
Trees

Planting trees adds much character to your home, and the fall is the best time to plant. Some of the most vibrant trees in the fall are Red Maples, Sugar Maples, and Japanese Maples. Also, a few trees which put on a flowering display in the spring are Cherry, Redbud, and Saucer Magnolia. Each of these trees are perfect to plant in Ann Arbor, as they can withstand the hard winter months. This time of year is great to plant because the temperatures are cooler and the winter weather forthcoming helps keep the trees well-watered.
Fall is the beginning of wonderful traditions such as the beginning of school, football games, and fall parties with hay rides. This year, make fall annual gardening, spring blub and tree planting your new fall tradition.
Get your yard looking its absolute best with custom landscaping solutions from Twin Oaks. Find us online at https://www.twinoakslandscape.biz/, visit us in Ann Arbor, MI at 4100 South Maple Road, or call us at (734) 213-6911.
"We recommend Twin Oaks to any entity looking for a full-service, talented, and responsive provider."
Therese Mahoney
Secretary/Treasurer of Doral Creek Condominium Association, Ann Arbor, Michigan