April 26, 2015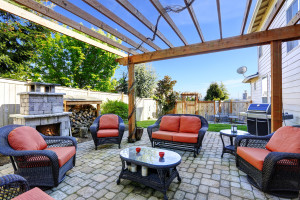 Congratulations! You have decided to build a patio. This decision is a great investment for a home. You will be able to enjoy a relaxing area in the great outdoors. However, there are some things to consider before you begin. Perhaps the most important decision to be made is what type of construction material you will use for your project. Read on to discover what type of material is right for your project in Ann Arbor MI.
Pavers
You can use pavers for your upcoming project. These can be composed of concrete, stone, or clay. For the planet friendly, you can even use pavers made from recycled plastics. Pavers can be easy to install. However, some interlocking designs can be difficult for an inexperienced homeowner. Also, remember that all pavers will settle and spread over time. You will need to use lumber to surround your new area to protect it for the long term.
Flagstone
This type of material is popular and easily recognized. Flagstone comes in numerous colors. You can use flagstone in red, blue, and buff. This material will make a statement on your property. However, you should keep in mind it can be cumbersome and difficult to place. Also, flagstone can erode easily. Your designated area should be free from pooling water. Notwithstanding these concerns, flagstone remains an exceedingly popular choice for many homeowners. It may be what is right for you!
Concrete
Concrete is an effective and inexpensive material for a patio. It is also very durable. However, the material is also prone to damage in areas of snow and ice over time. As a benefit, you can pour the concrete to make any design you can imagine. Also, you can level the concrete to provide the drainage you need for areas where rain might puddle.
Gravel
Gravel is probably the quickest and easiest material to use for this type of project. Don't let the ease of installation fool you into thinking gravel is not a material of quality. Gravel comes in a variety of different shapes, sizes, and colors. One drawback may be the presence of weeds and other plant growth if it is not maintained. However, gravel does provide excellent drainage if you wish to locate your project in a particularly water prone area of your lawn. It can also add a great rugged feel to your property.
These are just some of the many great materials you have available for your project. Decide which material is best for you, and make your home in Ann Arbor MI look beautiful!
Get your yard looking its absolute best with custom landscaping solutions from Twin Oaks. Find us online at https://www.twinoakslandscape.biz/, visit us in Ann Arbor, MI at 4100 South Maple Road, or call us at (734) 213-6911.
"We recommend Twin Oaks to any entity looking for a full-service, talented, and responsive provider."
Therese Mahoney
Secretary/Treasurer of Doral Creek Condominium Association, Ann Arbor, Michigan