March 7, 2015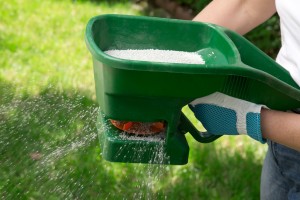 When are the best times for lawn fertilization especially in the area around Ann Arbor Michigan? This is a question often asked of companies specializing in that service. There are a number of theories, but most basic and essentially easiest schedule for homeowners who want to complete their own applications is to follow is the Holiday approach. Lawn fertilization on a regular schedule will make a huge difference in your lawn. The key word is Regular.
First Application – Spring, use Easter as a Guide
1. Begin with the first holiday, either Easter, or April 1 because of the variances in when that day falls from year to year. This is the time to give your lawn a good start on the growing season ahead and eliminate the threat of that dreaded crab grass which can choke out your regular lawn. The year's first application will help Ann Arbor Michigan lawns get a good start on the growing season just ahead.
Second Application – Memorial Day Before of after The Picnic
2. Memorial Day is the second holiday on the schedule. It comes `near the end of May. Give that nasty crabgrass its finishing treatment with a combination of crabgrass preventer and high grade fertilizer that will provide nourishment for the lawn.
Labor Day Means Another Application
3. Come Labor Day, your lawn is at its best. It is green, luscious and inviting to weeds that are native to the Ann Arbor area. To keep those weeds from gaining a foothold in your beautiful lawn, your grass will appreciate an application of high yield weed and feed to keep the lawn prospering through this last growing phase , while providing the lawn with a pre-emergent weed control
Last Application- Before the Feast
4. Finally, at Thanksgiving before sitting down for a wonderful Thanksgiving meal, your lawn should also be treated to a fertilizer blend that will provide it will all the important substances that will help it endure what could be another Ann Arbor Michigan winter like the one that came at us in 2013. This may well be the most important fertilizer application of them all.
You Have Options
Certainly these are fertilizer and maintenance programs many of us are up to doing ourselves, as we have for year after year. But, there is an easier sensible way to accomplish this task. Every lawn in the area may have subtle differences that a professional lawn service will recognize. You can trust these pros to come up with the right combination of products that will leave your lawn looking perfect throughout the year.
The Price Might Surprise You
The best part is that it need not cost anymore than what it presently costs you to do it yourself. With the experience a local company has acquired and his purchasing power, equipment and experience , there is an excellent chance that his services could cost you much less than you might guess.
Think of it this way. While you are home relaxing after a hard work week, enjoying a good game, call your backyard lawn specialist today. Get an estimate. On the other hand, if you prefer to do it yourself, a good lawn and garden store can you the right products for the job.
Construct the perfect patio, walkway, or porch with custom hardscaping services from Twin Oaks Landscape.
Find us online at https://www.twinoakslandscape.biz/, visit us in Ann Arbor, MI at 4100 South Maple Road, or call us at (734) 213-6911.
"We recommend Twin Oaks to any entity looking for a full-service, talented, and responsive provider."
Therese Mahoney
Secretary/Treasurer of Doral Creek Condominium Association, Ann Arbor, Michigan