August 14, 2017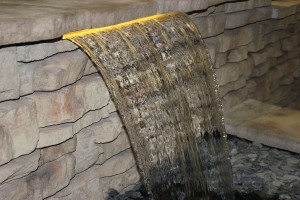 Have a seat in your favorite space in your yard. Look around. Does tranquil beauty come to mind? When you close your eyes, do you think of peace and serenity? If not, an outdoor water garden feature may be the perfect addition to your garden and landscaping. These features can add ambience and the gentle rhythms of nature to any space.
Why Install an Outdoor Water Garden Feature?
Garden water features bring another dimension to your home's landscaping. They bring a sense of nature, peace, and tranquility and also attract wildlife such as birds and butterflies directly into your garden.
Not only do they enhance the beauty of your yard, water features and gardens are low maintenance. That means you will spend less time and money maintaining your landscaping and more time enjoying it.
Types of Water Features
Fountains
One of the most common water features are fountains. They make a beautiful focal point for any residential or commercial landscape. They are also great for small spaces since they can stand above existing plants and gardens and will add another layer of beauty to any landscape.
A benefit of a fountain is that it can be installed in areas where plants can't grow. If you don't have free soil or space, that isn't a problem for a fountain. They can be installed anywhere including directly on concrete or exterior walls.
If you are concerned about wasting water, there's no need to worry. Fountains reuse and recycle the same water. This means there is no need to run a water line through your landscaping. Simply fill it up and enjoy.
Waterfalls
Another way to bring the sight and sounds of nature into your garden is to build a waterfall. These beautiful water features have their own unique sound and beauty. They can be built to complement any home's design and landscaping and instantly take your garden and landscape to the next level.
Waterfalls and fountains use an electronic pump to continually recirculate the water. This continually moving water means that your waterfall or fountain is virtually maintenance-free. Moving water prevents algae from developing and mosquitoes and other garden pests from breeding.
Another benefit of moving water is that wildlife, such as birds and butterflies are drawn to it. Some birds actually prefer fountains over standing water, which is cleaner and more appealing to bathe in.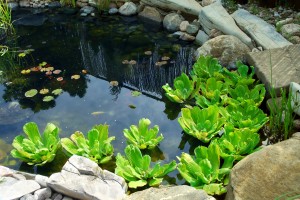 Ponds and Water Gardens
Imagine your relaxing garden landscape reflected in the serene beauty of the tranquil water of a pond or water garden. Unlike fountains and waterfalls, ponds are suitable for plant and animal life. This allows you to have live fish in your garden as well as live aquatic plants, such as lily pads.
To keep non-moving water low on maintenance, choose fish that feed on algae and mosquito larvae. Certain plants can also be added to help create oxygen and nesting areas for those fish. The result is a beautiful self-sustained ecosystem that requires little maintenance.
Another benefit of having a pond is that you can combine water features. Fountains and waterfalls have to get their water from a reservoir. A pond is a beautiful reservoir option that has its own unique benefits.
A Landscaping Paradise
If you are wanting your backyard to be your personal escape, an outdoor water feature is a great, low maintenance option that will take your garden to another level. Whether you choose a fountain, waterfall, pond, or a combination of all three, you will be sure to enjoy this addition to your landscaping for many years to come.
"We recommend Twin Oaks to any entity looking for a full-service, talented, and responsive provider."
Therese Mahoney
Secretary/Treasurer of Doral Creek Condominium Association, Ann Arbor, Michigan