Water Features for Your Ann Arbor Yard
When summer comes to Ann Arbor MI, it's time to liven up your home with features that make it inviting and enjoyable to look at. Besides flower beds and fancy decorations or props for your garden, water features make your landscape look especially attractive. While some do cost money to maintain, others can sit there and rarely require too much upkeep. If you'd love to water your yard's features up a little bit but aren't sure where to start, here's a few ideas for you.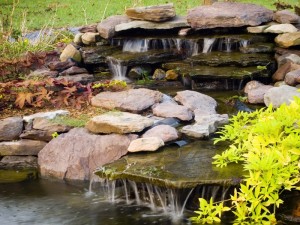 Standalone Pond In The Yard
Probably the simplest water feature to have done in your yard is a standalone pond. You could put a bench beside the pond and sit and enjoy the view outside, or place the pond in the middle of your garden to add beauty and tranquility. You could have the pond built as a stillwater pond if you're looking for it to be inexpensive and not run power out to it all the time. If you are looking for something a little more fancy, you might consider adding small fountains in the middle of it or lighting so that it glows at night time or has a more luminous feel towards it. You might even consider adding goldfish to it if you plan on maintaining the pond and preserving them during winter.
Fountains For Your Yard
Fountains are much more fancy and can really add a lot of flair to your yard. There are all kinds of styles to choose from and all different sizes. If you're looking for something small just to run a little bit of water into during the day, you might consider a built-in fountain on a bird bath to just add that little extra touch to the props in the landscape. If you're looking for something much larger you might look into a cascading water fountain that flows through several cascading layers down to a pool. Or you might even want a gushing geyser style fountain if you like to see water spraying up from the midst of a pool in your Ann Arbor MI yard.
Creeks And Backyard Waterfalls
If you have a large yard or garden and you want to have running water flowing throughout it and give it the look of a natural body of water, a running creek with a waterfall can do just that. Although these water features require a lot more planning and need lots of space to build, the end result can have quite a rewarding look to it. Creeks add a nice look to gardens or shrubberies where you might have paths going through and want to add small bridges to cross them with. You may want to add a waterfall to the creek or build it in such a way that water will drop off similar to a waterfall to make it more stylish. You could also use props such as a water wheel on the side of one of your outdoor buildings to give it a little bit of an old mill look.
Get your yard looking its absolute best with custom landscaping solutions from Twin Oaks. Find us online at https://www.twinoakslandscape.biz/, visit us in Ann Arbor, MI at 4100 South Maple Road, or call us at (734) 213-6911.