July 21, 2014
When it comes to landscaping projects, it's often very beneficial if people can see how something will look before they get started. Taking an idea from its earliest
conception to the final product requires much time and effort, and many homeowners welcome the opportunity to visualize the final outcome of a landscaping project before deciding whether to go full steam ahead. As technology has evolved, the use of 3D CAD technology has made it possible for landscaping companies to let homeowners visualize their project in great detail before the first shovel is in the ground. No matter how big or small the project, 3D CAD technology is changing the way landscaping is done today.
Design Programs
For homeowners who are interested in working with 3D CAD technology when designing their yards, there are a variety of free online programs available they can use to get some ideas before consulting with a landscaping company. Some of the most popular design programs available for use are:
RealTime Landscaping Photo
All of these programs provide easy-to-use tutorials and give homeowners the chance to try out many different ideas before proceeding with actual projects.
3D CAD Features
What makes 3D CAD technology so appealing to homeowners planning landscaping projects is the variety of planning options available to them. For those who envision a grand garden at their home, they can plug in many different elements to see what will work best. Some of the most popular elements used in today's gardens include:
Along with these elements, some 3D CAD technology also allows visualizing how a home would look with paved driveways and other amenities including:
Some programs even allow for importing photos of plants or other objects, designing with local plant varieties or even creating customized plants to use in one's yard.
3D CAD Functions
CAD programs also have a variety of functions that make them very popular with homeowners looking to do a makeover of their yard. In addition to importing their own photos, some programs have such functions as:
Using photos from the program
Designing with these programs is quite easy, usually being done with point-and-click or drag-and-drop. Photos can be touched up to make them more attractive, and any work done on these programs is easily saved. It's even possible to do such tasks as: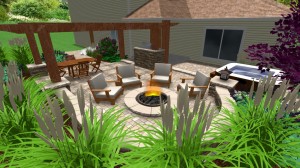 landscaping continues to be an ever-growing market, more and more homeowners are taking advantage of 3D CAD technology to visualize their projects. When it comes to creating the yard of their dreams, homeowners everywhere are turning to today's technology to help them make their outdoor dreams come alive in stunning detail.
"We recommend Twin Oaks to any entity looking for a full-service, talented, and responsive provider."
Therese Mahoney
Secretary/Treasurer of Doral Creek Condominium Association, Ann Arbor, Michigan