December 22, 2015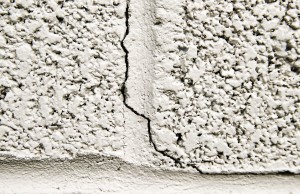 Winter weather can be rough in Ann Arbor MI, and water-related issues can develop year-round. Even snowy winter weather can harm the foundation of your home, resulting in costly repairs. Here are a few things to be aware of as we head into the freezing cold months ahead.
Soil pressure cracks.
When significant precipitation occurs, as snow and ice build up on the ground surface surrounding a home, moisture seeps into the soil. Depending on the type of soil, the moisture may dissipate and cause no problems. But if water leaches into sponge-like soil that absorbs and holds on to moisture, the soil will begin to expand and gradually press against your home's concrete foundation.
Over time, left unchecked, that pressure can cause cracks to develop, which may leak into your basement and cause serious damage. If the problem continues, the concrete walls could eventually begin to lean inward, weakening the home's overall foundational structure and causing damage.
Hydrostatic pressure.
Deeper in the ground where water collects, during periods of extreme rain or snowfall that gradually melts, the water level can rise and push against the bottom of a home's foundation. Cracks will appear in the concrete floor, or moisture will surface in slab foundations. Mold and mildew may develop to compound the problem.
Desiccation pressure.
The opposite of too much moisture is the absence of water in the ground, which causes the soil to contract or shrink. The home's foundation may sink as the earth beneath it pulls away. This can lead to an uneven floor, cracks, or water seepage. A house may experience hydrostatic pressure at one point, and then soon after, as water levels shift, begin to experience different pressure, which can lead to the need for foundation repair.
Qualified experts.
Whether or not your home's foundation has begun showing signs of winter weather damage, it's a good idea to contact foundation experts who can address the potential threat of water damage to your basement. Well-trained engineers understand the engineering issues associated with potential or actual water damage from winter weather to a foundation. They can recommend prescriptive measures that can help prevent the need for costly foundation repair.
Where problems have already developed, qualified foundation professionals can diagnose the source of the problem and suggest a plan of action for repair and future protection. In many cases, waterproofing will be needed to combat the threat of moisture in a basement or slab foundation. Waterproofing product will need to be the right grade for the type of basement being treated, and adequate safety precautions for applying the substance must be taken.
If you are concerned about real or possible foundation problems in Ann Arbor MI this winter, don't wait for something major to happen. Request an inspection to see if your home is vulnerable to damaging winter weather, or if early signs have begun to appear that indicate treatment is needed. Getting a jump on any possible problems before they begin or become significant can save time and money later.
Get your yard looking its absolute best with custom landscaping solutions from Twin Oaks. Find us online at https://www.twinoakslandscape.biz/, visit us in Ann Arbor, MI at 4100 South Maple Road, or call us at (734) 213-6911.
"We recommend Twin Oaks to any entity looking for a full-service, talented, and responsive provider."
Therese Mahoney
Secretary/Treasurer of Doral Creek Condominium Association, Ann Arbor, Michigan