The Proper Way to Aerate Your Ann Arbor Lawn
Proper Way to Aerate a Lawn
You want your lawn to look healthy, and be healthy. The health of a lawn goes beyond just mowing the grass. Keeping your grass healthy entails many things, with one of them being aeration of the lawn. Have you ever aerated your lawn? Do you know what it means to aerate lawn and how it helps keep your lawn looking thick, green and healthy?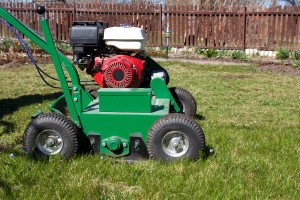 What is Lawn Aeration?
To aerate lawn is really a necessary procedure in taking good care of your yard. It is the act of putting holes, approximately 3-4 inches deep, into your yard so that the necessary ingredients for a well maintained yard, can get to the root system; such as, water, fertilizers, even oxygen and other nutrients. How do you get these holes? With an aerator that forces these plugs out so that you can introduce the good things: the nutrients and water.
How do your Aerate?
You aerate by pushing hollow cylinders into the ground.  Once you force these plugs out of the soil; creating 3-4 inch deep holes, you are then able to get the nutrients directly into the soil, by way of these missing plugs, such as oxygen, fertilizers, water, among other nutrients. You can get all the nutrients your yard needs, directly to the root system. Aerating can also be beneficial to breaking up a buildup of thatch in your grass.
When to Aerate?
Under normal conditions, to aerate a lawn in Ann Arbor once a year is good enough, to keep in it in a good state of health. If you live in a warmer climate area, the recommendation is to aerate in the late spring. On the other hand, it is advisable to aerate in the fall if you live in an area with cooler climate. Summer is a bad time to do aeration, as your lawn will be stressed under the summer heat. When the lawn is stressed, the aeration will not work, or benefit your lawn.
Tips to remember is; you don't want to aerate lawn when it is too hot or too dry, as Ann Arbor can sometimes be in the summer. You want to aerate when the grass is in a growth stage; typically the spring or early fall. You also want to aerate if you notice water puddling in areas in the yard, due to worn down areas from heavy foot traffic.
Proper way to aerate:
Water your lawn very well the day before you aerate. This will help the plugs to come out much easier. Run the aerator over the lawn in the same direction, creating a congruent pattern. Only cover the area once. Do not go back and forth over any area.
The best type of aerator to use is the mechanical core aerator. On this aerator, the tines are hollow on the inside, and pull soil cores out of the ground You can rent this type of aerator in Ann Arbor (or certainly nearby) from $30 to $75 for a few hours. What makes this type of aerator good, is that the tines on it are hollow inside and can pull soil cores out of the ground. Other aerators; like those with spikes, can actually do more damage to the yard.
If you live in Ann Arbor and you need your lawn aerated or simply have any questions concerning the process, call Twin Oaks today.
Get your yard looking its absolute best with custom landscaping solutions from Twin Oaks. Find us online at https://www.twinoakslandscape.biz/, visit us in Ann Arbor, MI at 4100 South Maple Road, or call us at (734) 213-6911