The Many Benefits of Hydroseeding
In the building or even major remodeling process, the lawn takes significant abuse. For new construction, the intended places for the lawn are compacted by the foot and equipment traffic that occurs with the building process. Additionally, the soil conditions may be altered in a negative manner. This has traditionally made producing a healthy, beautiful lawn in the Ann Arbor MI area incredibly difficult. The lawn care industry has responded in several methods.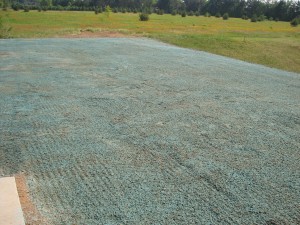 • The original method was dry-seeding. This is simply preparing the lawn through soil amendments, grading and virtually making the entire lawn a garden bed that is conducive to the seed growth. The grass seeds would then be sown by hand or with an automatic caster, water and otherwise pampered until a lawn was produced. This type of lawn development is time and resource consuming and does not guarantee a positive result. However, advancements in seed type could alleviate some of the drawbacks in this type of lawn seeding, but the next major advancement in producing beautiful lawns in these and many other situations was sodding.
• Sodding is placing square sections of already rooted grass with some of the soil still attached directly on the lawn. This was an advancement that intended to solve the problem of having to wait months or even years to produce a nice lawn. This would cause entire developments looking barren until the lawns eventually grew. To counter this, sodding placed a green coating of grass in an expedient and efficient fashion. Entire neighborhoods would look well established immediately because of sodding technologies. However, sodding also has some significant drawbacks. They are very labor and resource consuming to install. They require solving labor and logistical issues to install. Additionally, in the Ann Arbor MI area, they are often not green at all, and sodding still requires considerable coaxing and care to make them green. Often this has to be professional care, and in certain seasons, greening is still an impossibility until the growing conditions are favorable. They also can produce a lumpy lawn that is impossible to rectify.
• Hydroseeding seeds the lawn in a method that waters, mulches and plants in one step. This latest advancement combines the benefits of seeding while also effectively solving the issue of having a barren landscape until the appropriate care is instituted to produce the kind of good growth that results in a lush lawn. Additionally, hydroseeding is applied in a lawn-colored mulch solution that mimics a beautiful lawn while the seeds quickly develop. The contour of the lawn is preserved, and several types of seeds can be utilized for the varying lawn conditions. The ability to match seeds to shady or sunny conditions further promotes the pending lushness that hydroseeding guarantees in all areas of the lawn including those areas that are notoriously hard to propagate thee appropriate amount of green growth. One of the most outstanding features is that this technology costs almost 75 percent less than sodding, and new growth occurs within a week in most situations. However, winter growth begins a tad slower as does the initial growth in the hottest summer months.
Get your yard looking its absolute best with custom landscaping solutions from Twin Oaks. Find us online at https://www.twinoakslandscape.biz/, visit us in Ann Arbor, MI at 4100 South Maple Road, or call us at (734) 213-6911.