The Many Benefits of Hydroseeding for Your Ann Arbor Yard
Hydroseeding involves mixing grass seed, fertilizer, and chopped mulch with water to create a slurry. This mixture is then sprayed onto bare ground. Hydroseeded areas are common on commercial construction sites, but are also a good choice for residential lawn development in Ann Arbor MI. This method is one of three ways to develop a lawn or green space. The others are broadcast spreading and installing sod. There are advantages to each method, of course, but hydroseeded lawns are often the best choice.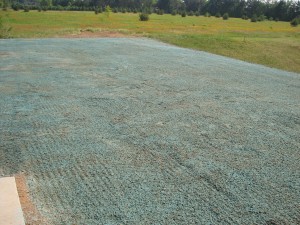 Benefits Over Broadcast Spreading
Spraying a hydroseed mixture is a faster method of applying seed to the ground than broadcast spreading. If you have large areas that need planted, spraying hydroseed is a great option. The mulch and fertilizer that are sprayed along with the grass seed create the ideal growing conditions for young grass. You should start to see grass within a week, and have a nicely established green space within a month.
Hydroseeding makes it easy to see exactly where the seed is, and where it isn't, which reduces waste and creating a more even appearance as the grass comes in. Dye is added to the slurry mixture, so the person doing the application can easily see the areas covered, and any areas that are missed. This is very different from broadcast spreaders, which broadcast the seed in a wide circle around the spreader, making it challenging to see the areas covered and the areas missed. In addition, there is no need to go behind the broadcast spreader, throwing out straw for mulch. The hydroseed mixture simply requires one pass of the hose to put down everything needed for a healthy lawn.
Benefits Over Installing Sod
Sod gives an instant impression, you leave the house in the morning to bare dirt and come home that evening to a plush lawn, but it isn't right for every situation. In fact, a hydroseeded lawn has several advantages over installing sod.
Sodding is very expensive. It is a labor intensive process, and uses an expensive product, so the price is relatively high. In some cases, an instant lawn may be worth the cost, but given how quickly a hydroseeded lawn comes in, the advantage is minimal.
Hydroseeding lawns are healthier than sodded lawns. The sod is grown in a nursery, and when harvested, the roots are chopped off to get the tidy squares of stackable sod ready for transportation. While the sod generally bounces back from this rough start, a hydroseeded lawn, nourished from the beginning with fertilizer and protected by mulch, is much hardier.
Ann Arbor MI can be a challenging location to develop a lawn. The short growing season means you want something that develops quickly, but the harsh winters means you need a grass that can handle stress. A hydroseeded lawn provides the best of both worlds. It is more reliable and provides quicker results than a broadcast seeded lawn, and the ideal application method, with fertilizer and mulch, give you a strong, healthy plant.
Get your yard looking its absolute best with custom landscaping solutions from Twin Oaks. Find us online at https://www.twinoakslandscape.biz/, visit us in Ann Arbor, MI at 4100 South Maple Road, or call us at (734) 213-6911.