July 20, 2014
The beauty of natural stone enhances many outdoor spaces. Varieties of natural stone include: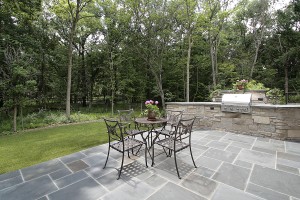 • river rock
• slate
• limestone
• gray quarry stone
• landscape boulders
• flagstone
Large stone pieces are used for walkways, walls and outdoor fireplaces. Small stones also add interest and texture to lawns and gardens. Small and smooth stones are good for ground cover and borders. Polished stone can add sophistication in more formal outdoor areas.
ADD INTEREST WITH NATURAL STONE
It is not unusual for the eye to go right to the stone structures in an outdoor space. Stone walkways and walls have a clean, manicured appearance when combined with plants that complement them and vice versa. Conversely, gravel paths may give the impression of a rustic walk in the garden when certain plantings grace the borders.
Blue slate has a cool, calming effect in a green, shady area. Limestone is versatile in shade and color for almost any kind of outdoor atmosphere. Some natural stone has a rusty sort of color and warms up a cozy area with a fire pit. A stone patio blends with other natural elements for a smooth transition from indoors to outdoors.
STONE STRU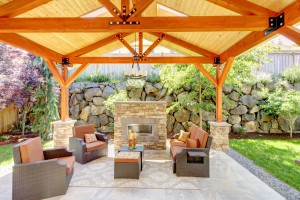 CTURES
Outdoor fireplaces are almost automatic attractions when people wander outside to mingle. They offer warmth and ambience, and people tend to gravitate toward them, especially in the evening.
Garden walls, even in small spaces, add personality to a lawn or garden. They also direct traffic to guide walkers or keep them from going into planted beds. Even low walls add practical solutions in an attractive way.
One large boulder on a plat of grass makes a statement. Making it more obvious by surrounding it with smaller stones makes it a focal point. Flat stone walks leading up to it as radii let visitors know that they can get closer and enjoy the space. This is also a way to create a lovely spot in an area that does not support grass or much green foliage.
NATURAL STONE WALKWAYS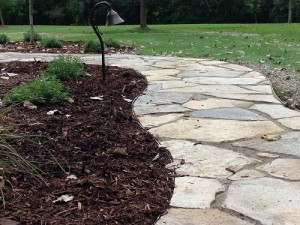 Walkways can include stairs, paths, flat, smooth sidewalks and bridges. In fact, a faux "stream" of smooth stones with a stone bridge over it is very picturesque. The illusion of water where there is none is beautiful and adds interest.
Stone steps create an eye-catching focal point even on a small rise, and they're practical for a hillside. Cement steps do the job, but stone steps make it a desirable passage going up or down.
If a wooden deck-like walkway is in place, bordering it on one or both sides with small stones keeps it looking neat and may give the appearance of walking over water, depending on how the stones are arranged.
BENEFITS OF USING NATURAL STONE
A few reasons to use natural stone are:
1. It is solid and lasts a long time.
2. It is a natural element that blends with outdoor areas.
3. Varying colors add warmth and interest.
4. Stone is beautiful in many ways.
Ask a landscaper about using stone.
"We recommend Twin Oaks to any entity looking for a full-service, talented, and responsive provider."
Therese Mahoney
Secretary/Treasurer of Doral Creek Condominium Association, Ann Arbor, Michigan