The Benefits of Installing an Outdoor Water Feature in Your Milan, MI Yard
Milan MI is a beautiful city located in the Great lake State. This charming town is home to some of the most attractive resedential real estate in the country. However, even these prize homes can be enhanced by an outdoor water feature.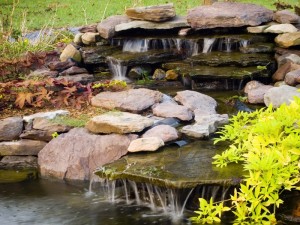 Adding Exterior Beauty
There are several outdoor water features which can be used to beautify a home in Milan MI. It really depends on whether the home owner is looking to add the structure to the front or the back yard. The backyard offers more options, because there's typically more space. However, there are a number of options that can enhance the curb appeal of the front yard. The most popular option is a birdbath which draws several species of fowls. Birdbaths are available in a number of styles, colors and sizes. This allows home owners to match the exterior decor of the home, while adding aesthetic and monetary value. The other type of water structure typically featured in people's front yards are decorative fountains. There are few home features that can draw people's attention like a fountain that features dancing water. There's also the option of an angel holding a water vase, which pours into the fountain. Either way, these decorative structures do a lot to add physical beauty to the home.
Backyard Outdoor Water Features
There are many options available to transform a backyard into a relaxing oasis. One such option is a cascade that recycles the water. Just the soothing sound of the water cascading down is enough to draw people into a calm sense of euphoria. These fountains can even be conjoined to a hot tub or even a swimming pool. Cascades can be made of rock, cement or stone. Some of the more expensive cascades even feature granite or Italian marble. While these options can be quite costly, they add to the overall value of the home. There are even cascades that can be built inside, but the majority of them are specifically designed for the home's exterior.
An Outdoor Wonderland
The most extravagant water structure a home owner can add to the backyard is a pond. There are a nearly unlimited number of options available, and a coy pond is among the most popular. The fish in the pond will marvel guests and family members when the home owner entertains, and going out to feed them can be very relaxing. Some people also add Japanese carp to their pond, because they're some of the most unique looking fish in the world. There are also beautiful plants and flowers that will only grow in water, and they too draw attention from visitors and family members.
Reasons to Add an Exterior Water Structure
Aesthetic Beauty
Increased Home Value
Affordable Options
Beautifying the exterior of the home is just as important as decorating the interior. It may even be more important, because far more people will see the homes exterior. Adding water features to the home allows the owner to customize the home's appearance, without making changes to the house itself. People looking to beautify their home's exterior should definitely consider adding a few water features.
Get your yard looking its absolute best with custom landscaping solutions from Twin Oaks. Find us online at https://www.twinoakslandscape.biz/, visit us in Ann Arbor, MI at 4100 South Maple Road, or call us at (734) 213-6911.