March 3, 2015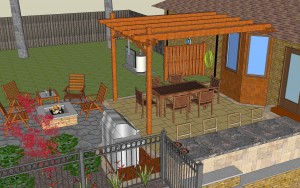 As you begin the exciting adventure of planning your outdoor kitchen, you may find yourself overwhelmed. Resist the urge to purchase everything on your wish list. Scaling back to the basic essentials can help to bring the project under control. The list below will supply you with the data you need to make an informed decision of how to plan and stock your kitchen in Ann Arbor Michigan.
1. How will the seating be arranged?
One of the most important aspects of planning an outdoor eating space is the seating. Many pre-built or kit islands fail to consider this critical factor, leaving it to the customer to prepare adequate seating for guests.
2. Prepare for weather extremes
Keep in mind that even if the outdoor temperature is pleasant, sitting directly in the sun may be uncomfortable. Two options to consider for sun and rain protection are an umbrella or an awning.
If you're planning to use your Ann Arbor Michigan kitchen during cold seasons, consider investing in portable space heaters. Fire pits are another option to provide your visitors with a comfortable place to stay warm.
3. What do you plan to cook?
If you are not planning to spend all summer cooking gourmet meals for famous individuals, you probably do not need a $7,000 grill. The smaller, less expensive grills tend to serve family-sized gatherings very well. A Kamado-style cooker, such as the Big Green Egg, is another food-cooker option. Many of these cookers can cook a wide variety of dishes, from roasts to pizza. Consider separating the cooking area of your kitchen from the main area, to create an "outdoor hang out" zone.
4. Do you want a low-maintenance kitchen?
Realize that your cabinetry choices will affect the length of time needed to maintain your kitchen. Stainless steel cabinetry will require constant maintenance; wooden cabinets require even more care. Your best bet for low-maintenance cabinets is polymer-based outdoor cabinetry.
5. Do you want to have TV or music?
There are many options available to help you bring music and other forms of entertainment outdoors. You can use either wireless outdoor speakers, or an outdoor sound system. You can even install a flat-screen TV. Music can add much richness to gatherings, so consider this step carefully.
6. Where will you serve the food?
Be sure to plan for sufficient counter space to set the food will be serving. Even if you aren't actually cooking the food in your outdoor kitchen, you may need a surface on which to place the food before serving.
7. What should you have on hand?
Take a close look at your supplies to ensure that you have a sufficient supply of the following items:
• paper towels
• napkins
• grill tools
• ice buckets
• charcoal
• placemats
• table cloths
• cushions
• hot pads
Consider storing these items in the cabinets of your outdoor kitchen so that they are easily accessible at party-time.
8. Landscaping
Landscaping can play an important role in the appeal of your Ann Arbor Michigan kitchen. Consider hiring a landscaping company to maintain your lawn and to install ornamental plants in the area surrounding your kitchen.
Construct the perfect patio, walkway, or porch with custom hardscaping services from Twin Oaks Landscape.
Find us online at https://www.twinoakslandscape.biz/, visit us in Ann Arbor, MI at 4100 South Maple Road, or call us at (734) 213-6911.
"We recommend Twin Oaks to any entity looking for a full-service, talented, and responsive provider."
Therese Mahoney
Secretary/Treasurer of Doral Creek Condominium Association, Ann Arbor, Michigan