June 7, 2015
You just installed a beautiful patio. You are excited to use your patio throughout the summer. You are looking forward to grilling, visiti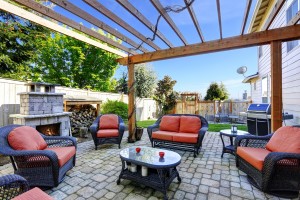 ng with friends, and just relaxing under the sun. However, don't get too carried away. If you want your great patio to last into the next summer, you will need to do some simple maintenance to your patio over the summer. What are these summer patio maintenance tasks? Read on to find out!
Relax in the Shade
Maybe you already thought about the importance of shading your patio. After all, it is unlikely you would be excited to sit out there if you had to be under the burning sun the entire time. However, you will want to make sure your patio has some shade from a canopy, awning, or some strategically planted trees. This will help keep your patio's color strong and vibrant. The sun can cause many patio building materials to fade. Keeping portions of your patio in the shade will keep this from happening.
Watch the Cracks
You will want to watch for any cracks or gaps in your patio during the summer months. Why is this important? First, it keeps your patio looking sharp and clean. However, it also protects your patio from the dangers waiting to attack it in the brutal winter months of Ann Arbor MI. Cracks in a patio left unattended will fill with snow and ice. This will greatly damage your patio over the winter. If you correct any cracks in your patio over the summer, you will not have to worry about the winter months ruining your lovely outdoor location.
Weeds
Weeds can quickly overwhelm a patio if left unchecked. You should be diligent in removing any weeds that pop up in the cracks or around the edges of your patio. Weeds obviously make a patio look bad. However, the roots of weeds can also disrupt the materials of the patio and make it uneven over time. It can be tempting to remove the weeds by hand, but you should invest in weed killer to truly take care of the problem. Hand pulling weeds will leave the roots intact. This will cause the weeds to grow up again! A good shot of weed killer will destroy the weed and the underlying roots.
Move Patio Furniture

Don't let patio furniture sit in one place over an entire summer. This includes chairs, tables, grills, and more. Leaving items in one place for a long period of time can cause the patio materials to darken or stain. The result will be an unattractive patio if the furniture is moved or rearranged. Take the time to move the furniture and clean under the items once or twice a month. This will keep the patio from staining.
A patio is a great investment for a home. However, it is also an investment that needs to be maintained. Follow the above patio maintenance to keep your patio around for the long haul in Ann Arbor MI!
Get your yard looking its absolute best with custom landscaping solutions from Twin Oaks. Find us online at https://www.twinoakslandscape.biz/, visit us in Ann Arbor, MI at 4100 South Maple Road, or call us at (734) 213-6911.
"We recommend Twin Oaks to any entity looking for a full-service, talented, and responsive provider."
Therese Mahoney
Secretary/Treasurer of Doral Creek Condominium Association, Ann Arbor, Michigan