March 11, 2017
Twin Oaks Landscape, Inc. of Ann Arbor, Michigan has received the 5 Star Award for "Excellence in Customer Service" from Pulse of the City News. This award is based on independent research of Pulse of the City News. This research is done with professionals in these fields that have not only worked them, but have also been customers at one point in time themselves. The research is also, not only, done with The Pulse of The City but with The Stirling Center people as well. Every field has a star that stands out, and this field is acknowledged by Star awards. This field deals with conflict more so than other fields. This is because people have different taste on how they want things (especially in construction and customer service related fields). Twin Oaks Landscape stands out from the rest with excellent customer service.
Thank You from Twin Oaks Landscape, Inc.
Thank you to our wonderful customers and employees who have done their share and have helped us to achieve this exciting award. Without you, we would not be able to reach this amazing achievement. Also, thank you to The Pulse City News research team and The Stirling Center for choosing us to receive the 5 star award in "Excellence in Customer Service."
"We are honored to be recognized for our commitment to a high level of service. Being acknowledged for what we practice each and every day is appreciated." says Sara Speen (The Corporate Controller of Twin Oaks Landscape, Inc.).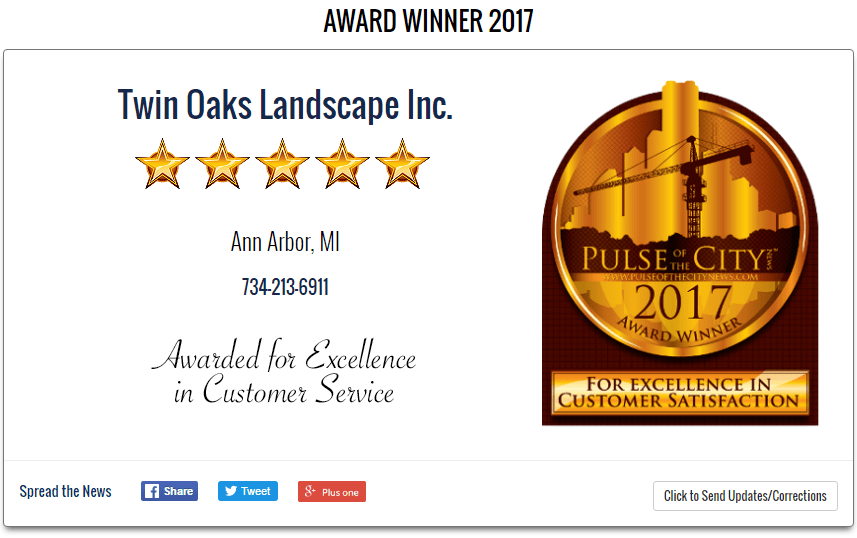 "We recommend Twin Oaks to any entity looking for a full-service, talented, and responsive provider."
Therese Mahoney
Secretary/Treasurer of Doral Creek Condominium Association, Ann Arbor, Michigan