Sprinkler Systems to Improve Your Yard's Health and Longevity
Taking great care of your yard may be something that is at the top of your list of goals, but the unfortunate reality is that many homeowners simply do not achieve this goal despite their best intentions. One of the key elements associated with having a healthy, well-maintained lawn is making sure that it receives all of the water that it needs without over-watering it. This may sound simple enough to do, but it can be challenging in a number of ways. The good news is that investing in sprinkler systems is a great way for many Ann Arbor MI residents to overcome their challenges.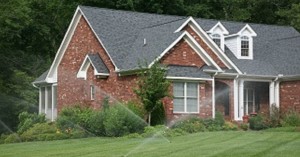 Reasons Why You May Struggle With Water Your Lawn
Without a sprinkler system installed, you typically must monitor weather conditions to determine when you need to water your lawn on your own. Then, at the ideal time when your lawn and gardens need water, you must find time in your schedule to spend an hour or two watering the lawn, moving the sprinklers, positioning the sprinklers perfectly for even coverage and more. Some people may forget the sprinklers are on and over-water some areas. Some may have to run out of the house and may need to turn the sprinklers off before the entire yard is watered. Some may not have time to water the lawn until several days after it is truly needed. These are just a few of the many challenges associated with manually watering your lawn.
What a Sprinkler System Can Do
Modern sprinkler systems in Ann Arbor MI are truly innovative and intelligent. Many have rain sensors as well as sun sensors, and they can intelligently adjust the settings slightly based on the weather conditions in the area. You can program the settings based on frequency, time of day when you want the yard to be watered and how long the sprinklers should run, but the system can also make automated adjustments based on weather conditions that truly takes the stress and time out of watering the lawn. With the right system installed, you can rest assured that your yard will receive the right amount of water in any weather conditions.
Worth the Investment
Some homeowners believe that the cost of a sprinkler system is too high and may not be worth the investment. However, this is the ideal way to ensure that your yard receives the water that it needs regardless of your busy schedule or weather conditions. This can promote a healthy lawn and can improve curb appeal. It also can enhance property value and decrease your stress level and yard maintenance responsibilities considerably. While there is an up-front cost associated with the installation, many will find that this is an investment well worth making.
If you are challenged by the care of your lawn, a smart idea is to schedule a consultation with a landscaping company. In addition to providing you with more information about sprinkler system installation, you can also learn more about other landscaping services that are available.
Get your yard looking its absolute best with custom landscaping solutions from Twin Oaks. Find us online at https://www.twinoakslandscape.biz/, visit us in Ann Arbor, MI at 4100 South Maple Road, or call us at (734) 213-6911.