A Lawn Sprinkler System Can Transform Your Lawn's Health
The yard in front of your home is a great representation of how you carry yourself as a person and as a family and if you want to put out a good image to your neighborhood, it is a great idea to have your lawn green, cut and looking great. That being said, if you do not have a sprinkler system that is set to regularly go off and water your yard, your green grass could easily be turning brown. The reality is that in order to maintain your green grass, you need to diligently water your yard, which can be very difficult if you are working a full time job and have other responsibilities, such as taking care of a family.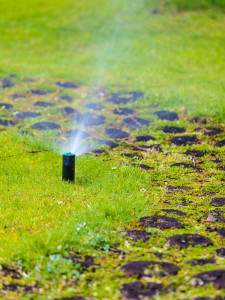 Solution to the Problem
*One of the best ways to not spend a whole ton of time hand watering your yard with a house each morning or evening is by simply installing a lawn sprinkler system and setting it to go off once a day. Something that a lot of people do not keep in mind is the fact that life throws curve balls at you and sometimes you simply can't be home to water the lawn, as other things have taken precedence at the moment.
*This means that your lawn is going to get neglected and although your lawn will not die from not being watered for a few days here and there, there is no question that a lawn watered on a regular daily schedule looks far better. If you want that dark green and vibrant grass that makes all sorts of homes look amazing, do not hesitate to look into getting a sprinkler system that you can set and forget about.
Hiring the Right Company
*Unless you know a great deal about landscaping, as well as understand the technical aspect of setting up a sprinkler system, you are most likely going to have to get in touch with a company in your area that can come and provide the installation. It may be easier to simply purchase the system from them as well, as a majority of companies that do these types of landscaping installations also sell the parts and can usually get you a great bundle deal.
*The best way to find a great company that can come out and do the job is by doing a simple internet search for companies in your area. For instance, if you live in Ann Arbor MI, you can do a search for "lawn sprinkler system Ann Arbor MI", which should give you a handful of results to pick from. Keep in mind that you should definitely go through and see if you can find reviews on the different companies and also follow up by giving each company a call and inquiring about their services and prices. This should give you a good idea of which company will do the best quality work for a fair price and you will be well on your way to a great looking lawn and a brand new lawn sprinkler system.
Get your yard looking its absolute best with custom landscaping solutions from Twin Oaks. Find us online at https://www.twinoakslandscape.biz/, visit us in Ann Arbor, MI at 4100 South Maple Road, or call us at (734) 213-6911.