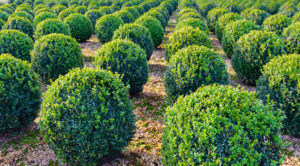 Softscaping is a landscaping word that describes the vegetation or living elements in a yard. Homeowners in Ann Arbor Michigan often spend much of the spring and summer months planting new vegetation and nurturing their lawns and plants for optimal health, and this can improve curb appeal, help property values and more. When winter arrives, however, the cold temperatures and freezing precipitation can easily wreak havoc on your yard, and the sad reality is that some of your plants simply may not live through the winter. This can leave your yard an unsightly mess when spring arrives and may result in the need to make costly softscaping updates and improvements. However, other types of vegetation are designed to thrive in cold weather climates.
Choose the Right Plants
If you are preparing to plant new grass, bushes or other softscaping elements in your yard, give thought to how hearty they are to harsh winter weather conditions. Typically, this may be as easy to do as ready the label that comes with most plants. In some cases, additional online research may be needed, or you can ask your landscaping expert for more information. In many cases, choosing native plants is a smart idea, and this is because native vegetation survives and even thrives in the local climate.
Complete Winter Maintenance
Your selection of the right vegetation to use in your Ann Arbor yard is critical to its long-term health, but this is not the only factor at play. Winter maintenance is also important. This can include everything from snow plowing and removal to trimming back branches and limbs in preparation for cooler temperatures. Each type of plant may have different winter weather precautions that you need to take. For example, some may do well with cold temperatures, but they may need to be covered to prevent frozen precipitation from harming their leaves.
Remove the Snow From the Ground
Ann Arbor Michigan has a very snowy winter climate, and it is common for inches or even feet of snow to cover the ground. Snow may be pretty look at, but it can damage some types of vegetation. The combination of a thick layer blocking sunlight from hitting the vegetation to the frozen precipitation on the leaves and more can all result in death for some types of plants. Because of this, snow plowing and removal is often recommended regardless of the type of softscaping in place. Your landscaper can provide you with more information about if this is a necessary service that you need to pay for in order to maintain the health of your yard.
Once the snow has melted and spring temperatures have warmed up, you ideally want to find that your yard is in excellent condition. It can take a lot of effort researching different plants as well as protecting them from the elements throughout the year, and because of this, many homeowners in Ann Arbor Michigan choose to hire professional landscapers to assist with lawn and garden care during this frigid season.