June 9, 2015
A water feature such as a fountain, pond, pool or small man-made stream can add interest to almost any yard in Ann Arbor MI. Incorporating fish into the water feature can ramp up the interest level even more. If you are thinking about building an outdoor water feature and adding fish, there are several things you'll need to consider.
Know your zoning

Consult with the city of Ann Arbor MI prior to planning your outdoor water feature. A water feature is considered a structural amenity, and will probably require a building permit. If you hire a professional landscaping company to construct your pond, stream or other backyard water feature, they will know how to go about obtaining the proper permits.
Where will the water feature be located?
Before you start excavating your backyard, be sure you know precisely where the gas lines, electric lines, telephone lines, water lines and sewer lines are located. If your plan is to beautify your yard, the last thing you want to do is dig into an important underground utility line.
What kind of fish can live in an outdoor water feature in Michigan?
When most people envision an outdoor pond with fish, they think of shimmering koi. A relative of the common goldfish, koi provide an array of colors, including white, black, orange and brown. Koi are not the only sort of fish you can add to your backyard pond. Speak with a landscaper who specializes in water features about adding sunfish. There are at least a dozen different types of sunfish that are known to thrive in Michigan backyard water features.
You will probably want to incorporate a couple of algae-eating fish to your pond. The strange-looking Plecostomusis a good choice. Growing up to a foot or longer in length, Plecostomus eat gobs of algae and can thrive in water as cold as 50 degrees.
No matter which kind of fish you choose to stock your outdoor pond, be sure to start small. Fish have a remarkable habit of growing only to a size that is comfortable for their environment. Start with too-big fish in a small pond, and you may find yourself with dead fish on your hands and conscience.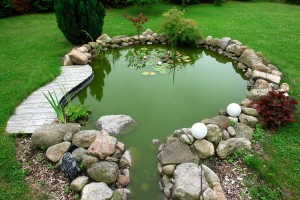 Will your fish survive a Michigan winter?
Most decorative pond fish can live in a backyard pond during spring and summer months. When the weather gets cold, however, you will have to find a way to overwinter your fishy friends. If you stock your pond with smaller fish, such as goldfish, you can catch them in a net and move them to a large indoor aquarium.
To winterize your backyard pond, you'll need to ensure that at least a portion of the pond is a minimum of 30 inches deep. You'll also need to make sure that the surface doesn't completely ice over. Your professional landscaper can tell you about special pond heaters and de-icers that will prevent a total freeze-over. Covering the pond with a tarp during snowfalls may help to keep your fish alive, too.
Fish become semi-dormant when the weather is super cold, so you'll need to stop feeding them during icy winter months. Your landscaper will explain the proper feeding schedule for the fish in your water feature.
To know more about Ann Arbor MI backyard ponds, or to request a free price estimate, please contact your local landscaper.
Get your yard looking its absolute best with custom landscaping solutions from Twin Oaks. Find us online at https://www.twinoakslandscape.biz/, visit us in Ann Arbor, MI at 4100 South Maple Road, or call us at (734) 213-6911.
"We recommend Twin Oaks to any entity looking for a full-service, talented, and responsive provider."
Therese Mahoney
Secretary/Treasurer of Doral Creek Condominium Association, Ann Arbor, Michigan