June 23, 2016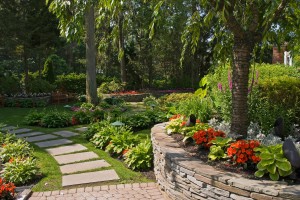 Trying to garden in Ann Arbor MI is no easy task. The plentiful rainfall can easily wash away fragile seedlings and newly planted flowers. Still, the love of gardening supersedes all of the challenges, and if you are resourceful enough, you can always find a way to make plants blossom despite the mess. One way to do that is to work smarter instead of harder, and use retaining walls. Read on for five great reasons you should consider adding them to your garden.
Soil Erosion
Heavy downpours of rain, high winds, and melting snowfall all contribute to soil erosion. As the top soil is washed away so are important nutrients that feed plants. Roots also become exposed, which cause the plants to wilt and die off. Retaining walls hold soil at bay, so this can't happen.
Aesthetics
A retaining wall is not only functional but beautiful too. It adds a tremendous amount of curb appeal, which increases property values. In fact, they have become so desirable in Ann Arbor MI that properties that have them often sell faster than properties that don't. That is because when they are placed in a garden setting with vines or flowers trailing down them, they certainly make passersby stop and stare at how lovely it all looks.
Property and Garden Dividers
A retaining wall is a sturdy property and garden divider. This is most helpful if your home is close to surrounding neighbors because it can act as a barrier to keep your prize rose bushes unavailable to stray dogs. It is also effective in keeping garden microclimates separate from each other.
Raised Garden Beds
Some people think of a retaining wall as a simple, flat structure, but that isn't so. These walls can be curved, wavy, and made from many different sturdy substances. This versatility makes them perfect for raised garden beds. The walls support the sides of the bed and can transform a flat desolate area into a stunning focal point.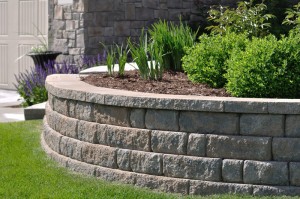 Flatten Sloped Areas
While gardens that are planted on hills are quite lovely to look at, working in them can present quite a challenge. Many gardeners have taken a tumble while attempting to weed, plant, and till up gardens on hills. By adding a retaining wall, and some extra top soil too, a high-sloping hill can be transformed into a flattened garden bed ready for planting. This also helps with the above mentioned problem of soil erosion since hills have the highest rates of erosion because rain can carry the soil downward so much easier on them.
As you can see, retaining walls are versatile, beautiful, and functional. They increase property values and make gardening easier. If you are considering having one or more of them installed, call in professionals to do the job. They have to be built using proper methods, so that they are the most strong and effective. Soil weighs quite a bit, so if they are not installed properly, they will not be able to withstand the pressure, and they could crumble. Twin Oaks can install your new retaining walls perfectly, so contact us today.
"We recommend Twin Oaks to any entity looking for a full-service, talented, and responsive provider."
Therese Mahoney
Secretary/Treasurer of Doral Creek Condominium Association, Ann Arbor, Michigan