March 5, 2019
The outside of your home is just as important as the interior. It visually welcomes visitors and can give you added living space to enjoy the outdoors. But, a sub-par porch or entry way can invoke the opposite. That's why these customers turned to Twin Oaks Landscape in Ann Arbor. 
They were existing Twin Oaks' customers, so they knew our hard-working team could breathe some new life into their home's landscape design. We were able to turn their crumbling porch into the entryway of their dreams.
This home is situated in a city neighborhood in Dearborn. The homeowners knew they needed a solution for their eroding and crumbling porch. Their front porch was originally wood and it did not hold up to Michigan's harsh winters. The wood was rotting and needed fixed fast. The family also wanted to create useable spaces with limited maintenance. They have an active family and hoped to extend their living quarters by creating an improved backyard space.
How it Was Made
Work on the project was started and completed during the summer of 2014. Twin Oaks Landscape replaced much of the existing problem areas with pavers. The rotting wood porch was replaced with pavers, and pavers were used to replace the broken cement walkways. The patio was originally a cement pad. A much larger patio was created with pavers, as well. A drainage system was also included in the design in order to navigate water away from house and patio.
Materials used during construction included:
Fendt wall block and pavers
Polymeric sand
Drainage Pipe – SDR 35 4″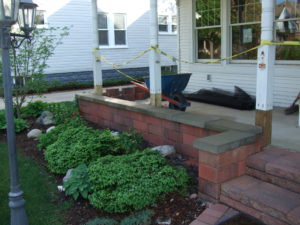 Overall, Twin Oaks was able to successfully complete several elements including:
8×20 porch
4×30 walkway
4×75 walkway
10×30 Patio
During the reconstruction of the porch, rotted support posts were discovered and needed replaced. This was a good discovery to make in order to prevent any further damage to structure of home.
The customers are thrilled with the results. They appreciated the thoroughness of the enhancement, and the beauty it brings to the home. They are also thankful for the larger living space the project created for their large and active family.
Twin Oaks Landscape is honored that these repeat customers once again chose them to tackle their landscape design needs. We are happy we could help them improve the exterior of their home and help them find solutions to a rotting porch, while making their outdoor space more useful. If you have problems plaguing your property, Twin Oaks Landscape can help. Let us make your landscape livable. Contact Twin Oaks for an estimate today.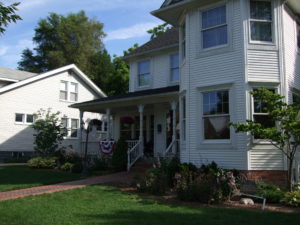 "We recommend Twin Oaks to any entity looking for a full-service, talented, and responsive provider."
Therese Mahoney
Secretary/Treasurer of Doral Creek Condominium Association, Ann Arbor, Michigan