October 6, 2021
Outdoor space is great to have unless it's unusable due to poor grading, ponding water, high slopes, and invasive plants. All of these in any combination can make a backyard less desirable. A great lawn and landscape company can turn the tables on an uninviting yard. That is why these Ann Arbor homeowners turned to Twin Oaks Landscape for not one, but two projects to solve some of the outdoor issues with their home.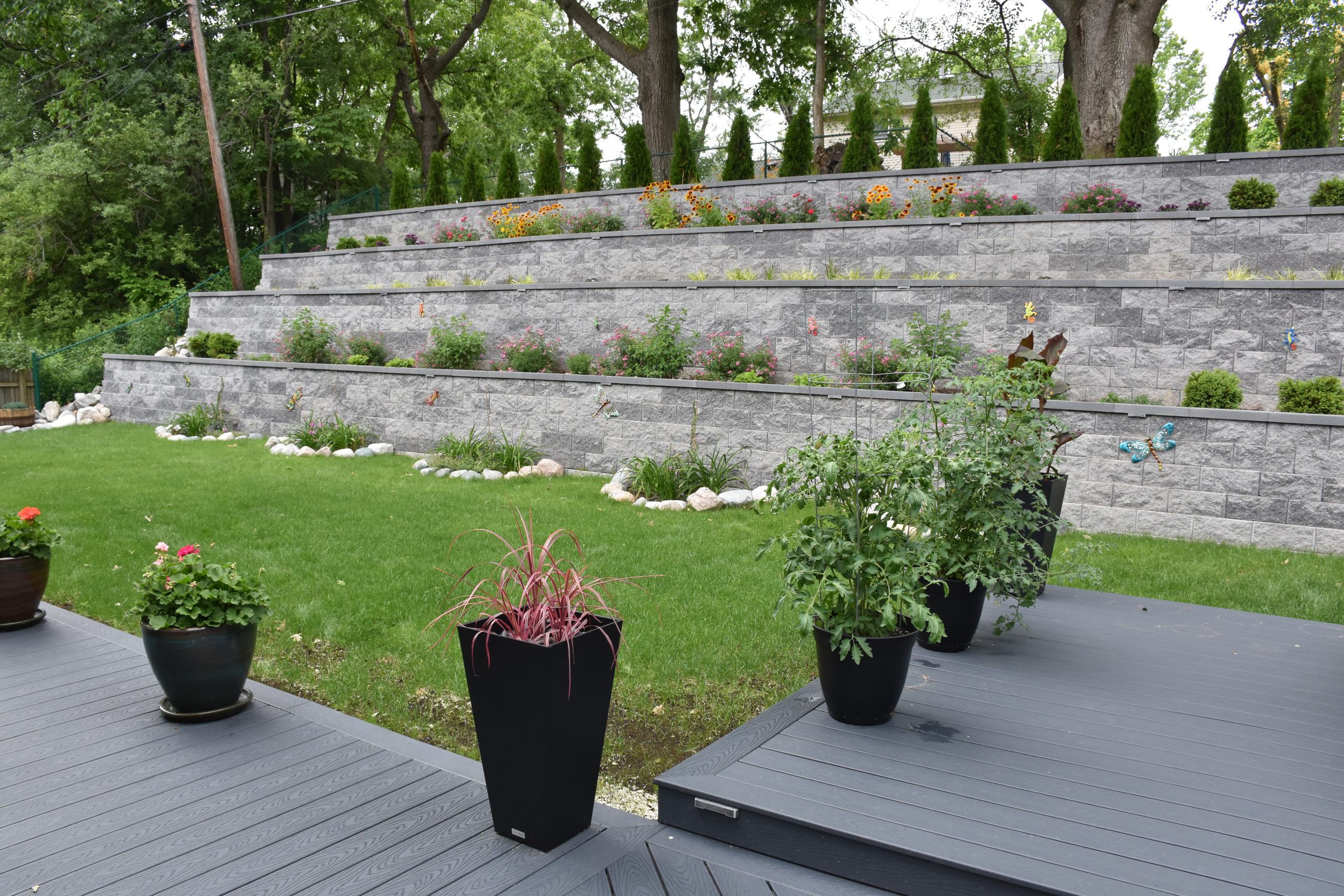 Project Overview
The clients originally contacted Twin Oaks Landscape to discuss some drainage issues in their backyard in Ann Arbor. They wanted to get an estimate to correct the nightmare they experienced every time it rained-pooling water in front of their deck. But that wasn't the worst of it. During heavy rains water would come into the basement through two window wells under the deck.
After the project was complete, the homeowners continued working with Twin Oaks to create some sort of wall to make an unusable backyard space usable for the family.  An invasive species within the wooded, sloped area made the space unattractive and unusable.
Twin Oaks Landscape experts were able to tackle both problems using high-quality drainage products and engineered concepts. We even went as far as to hire an engineer to test the unstable soils. Based on the findings, an appropriately staggered and tiered wall design was developed to correct the problem.
How It Was Made
Work on the drainage project at this location started in 2019. From there, the construction on the wall took place in 2020 and in 2021 plants were installed within the wall.
The area with poor drainage was about 5000 square feet. A combination of hardscapes and softscapes were used in order to give a place for water to go instead of pooling.
About 1120 face feet of wall block was used to create four tiers. Each tier was about 70' wide x 4' height each with embedded planting beds. Four mulched planter beds were placed along the base of the wall bordered by fieldstone.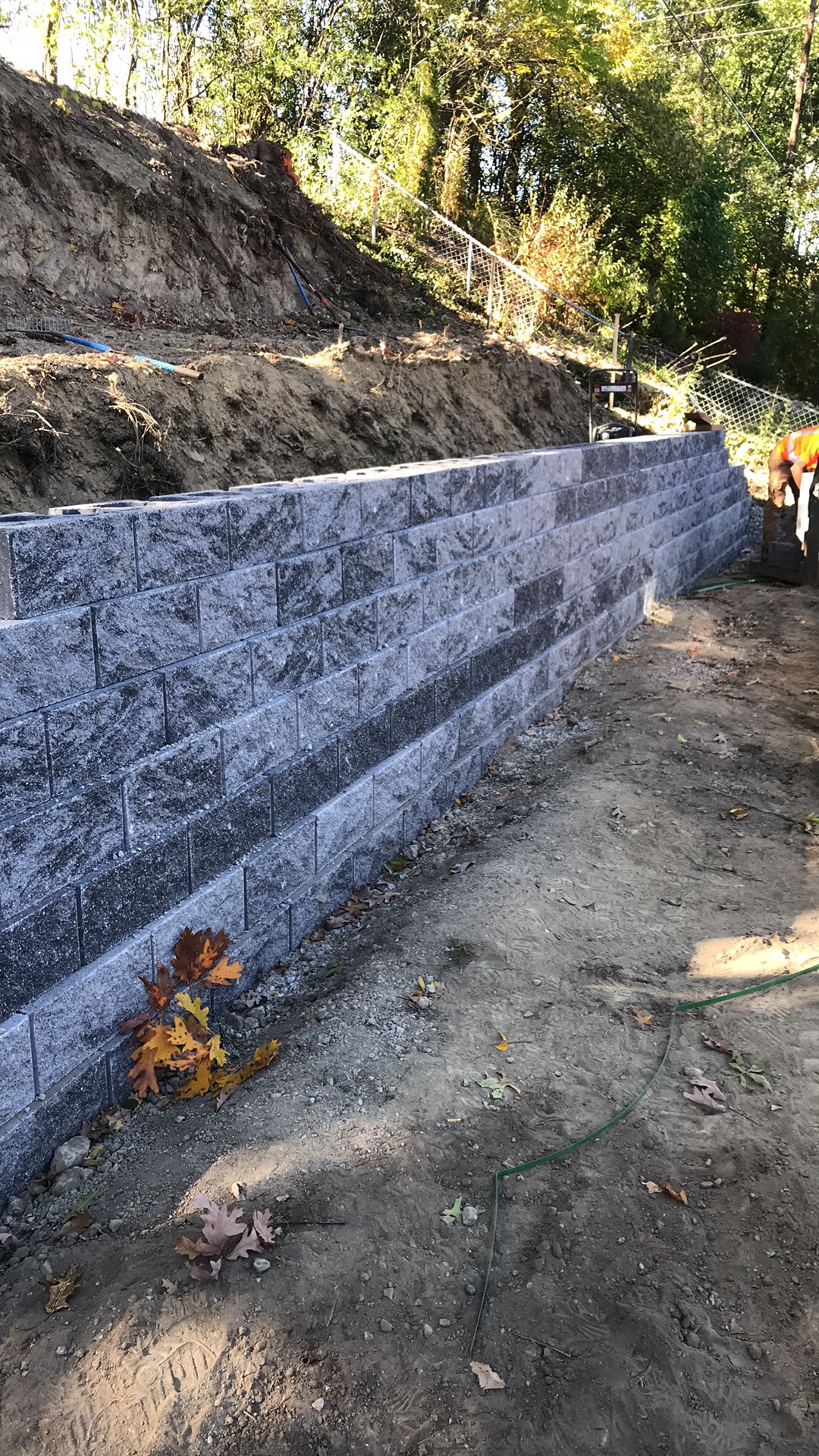 The project was capped off with landscape lighting that continues the eye-catching beauty of this transformation long after the sun sets. The lighting is wi-fi connected and app controlled for added convenience.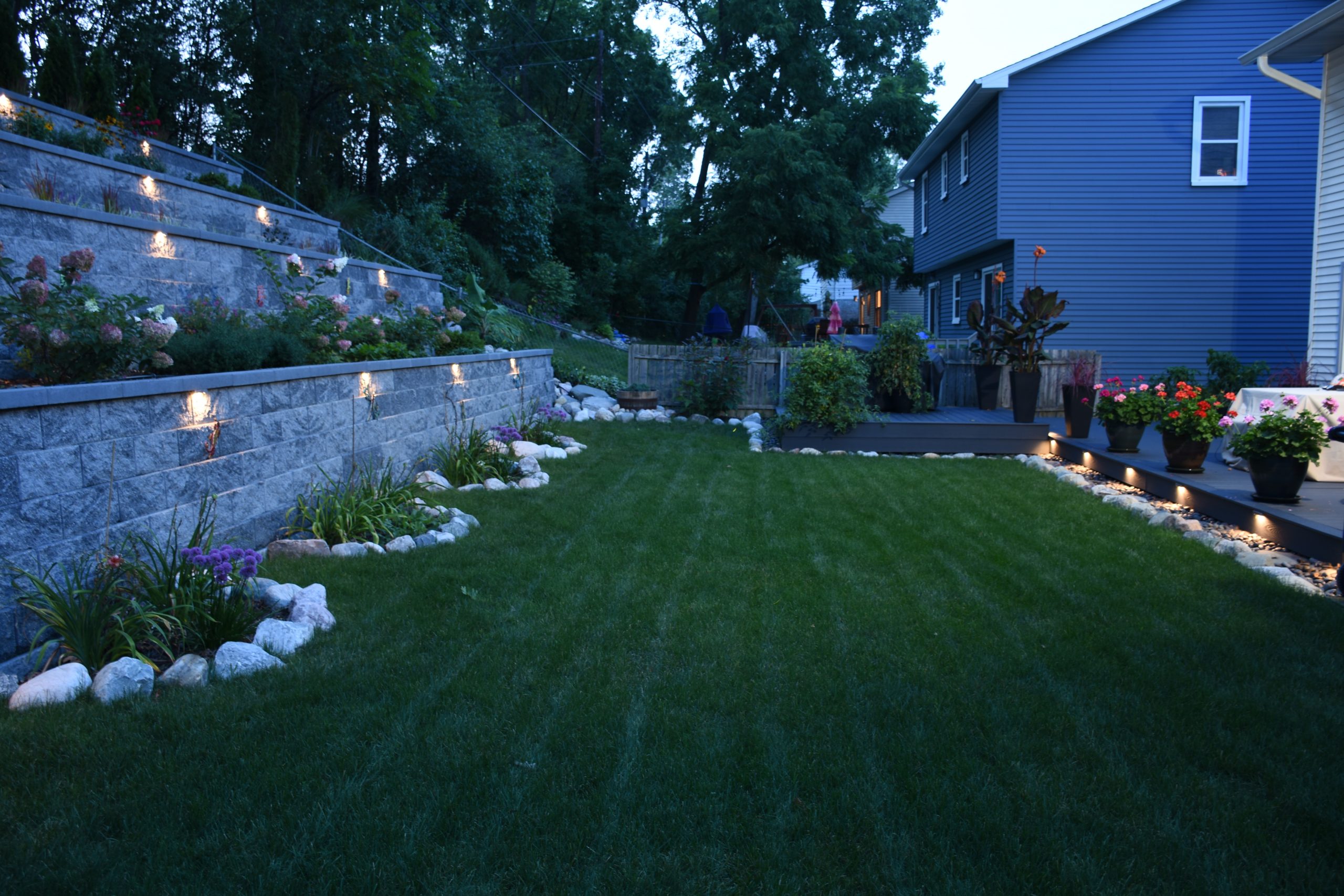 Materials used during construction included:
Fendt Wall Block, Keystone
Landscape Lighting
Approximately 170 plants
Customer Satisfaction
The clients are overwhelmingly happy with the results. The complete project gives them a fully functional and beautiful outdoor space. Furthermore, the customers say they are not only thrilled with the landscape results, but also with the communication and extra steps Twin Oaks Landscape took to ensure they were pleased with the process and the results.
Twin Oaks Landscape is proud to offer unique and picturesque landscape drainage solutions for our community. Nothing makes us happier than helping homeowners get the most out of their home by adding function and beauty to the outside areas. We will help you make the exterior of your home as useful and beautiful as the interior.
Ready to make the most of your property? Contact Twin Oaks Landscape today to learn more about our services and discuss your drainage and landscaping needs.
"We recommend Twin Oaks to any entity looking for a full-service, talented, and responsive provider."
Therese Mahoney
Secretary/Treasurer of Doral Creek Condominium Association, Ann Arbor, Michigan